USING DIGITAL FUNDRAISING TO BUILD DONOR LOYALTY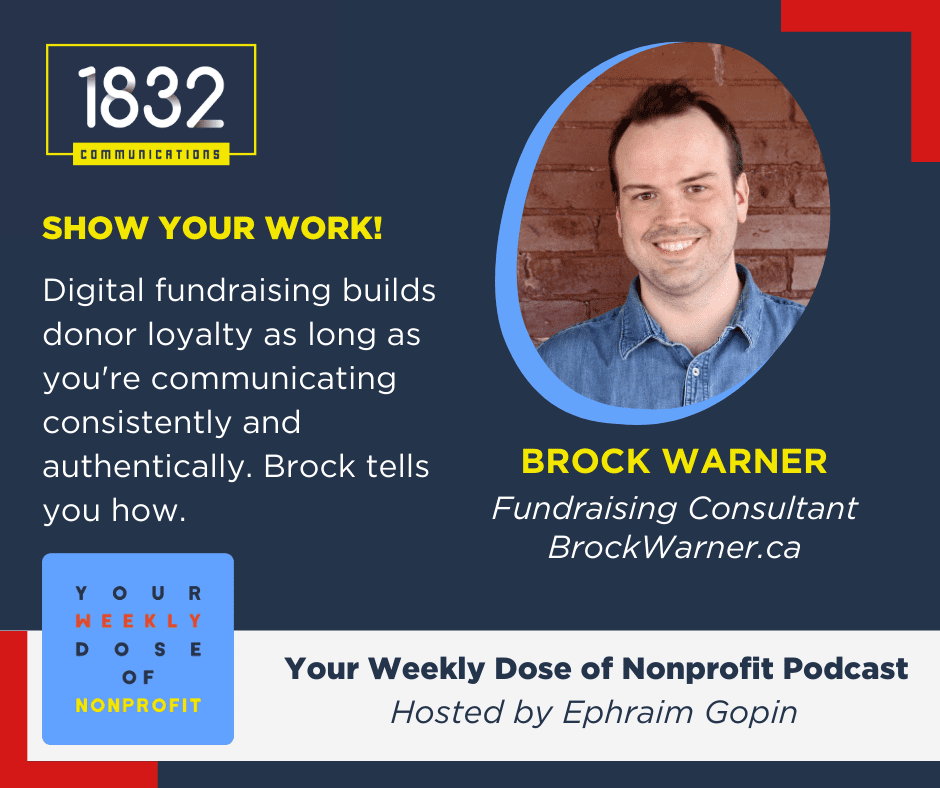 Episode aired Feb. 17, 2021: Show Your Work
When it comes to digital fundraising, Brock Warner wrote the book on it. Literally. He knows the importance of using multiple digital platforms to communicate and engage donors. In this episode Brock discusses
what 3 items must appear above the fold of your website 

strategies for engaging followers on social media  

how to turn email subscribers into donors

which type of fundraising campaign works best online

how digital fundraising builds donor loyalty and

what does it mean to be truly donor centric.  
Below you can listen, watch or read this podcast episode.
Ephraim: Welcome to this edition of the Your Weekly Dose of Nonprofit Podcast, the podcast that delivers actionable items you can implement at your organization right away. I'm your host Ephraim Gopin of 1832 Communications. Today I'm really happy to have with us a nonprofit fundraising and digital smartie, Brock Warner. Brock, how you doing today?
Brock: I'm well, I'm well. Thanks for having me Ephy.
Ephraim: An absolute pleasure. Let's introduce you to our listeners, watchers and readers.
Brock is the author of the best-selling book: "From the Ground Up: Digital Fundraising for Nonprofits" as well as a nonprofit fundraising consultant and professor in e-philanthropy at Humber College's Business School in Toronto. Brock has a wealth of experience that spans across every major nonprofit sector in Canada. As a direct marketer, he managed fundraising campaigns in healthcare, education, multiple Olympic games, humanitarian and domestic aid and the environment. As a senior leader on the front lines, Brock's efforts have largely been in international development which took him around the world and in the field of youth mental health.
Does Your Website Drive People To Action?
In today's episode we're going to discuss digital fundraising. Let's dive right in. Brock, let's start with websites. People have limited time on their hands. How can nonprofits capture attention when users are on their site and move them towards taking an action, whether that's signing up for a newsletter, petition, donating online or something else?
Brock: Well I think that fundraisers need to advocate for having three specific things above the fold. And when I say above the fold, that's an old newspaper term but online it tends to mean the things you can see without having to scroll down on a website. So above the fold on your website you should have your donor value proposition. That is your superpower. You may not think you have one but every charity has one. Some of them are just a little more powerful than others but essentially, if you know deep down that your charity is doing one specific thing very very well and the world would be different, for the worse if it weren't there, that's your donor value proposition. If you're in Toronto- I'm here in Canada- if you're in Toronto and you're the only food bank who is sourcing and distributing fresh produce to families in need, that is a donor value proposition. That's what makes you special. So that should be above the fold. That's number one, put that front and center.
Then video. Video is not out of reach as it may have been five years ago for a lot of people. There are tools out there like Adobe Spark, if you've got a nonprofit license for the Adobe suite. Canva has additional video tools and they are coming out more by the day. So taking a bit of b-roll, overlaying some text, putting an end card at the end, maybe putting your logo in the in the bottom right hand corner. You do not need to have gone to a fine arts program or a digital media program to learn how to do that. That is within reach. If you're here on YouTube you're watching a video, you can do it. I believe in you.
Then I would say you need to have a very clear call to action that leads to a data capture of some kind. You ask them to do something and in doing so, you'll get a little bit of information about them. Maybe just an email, maybe you don't even get their name. If you're in a political party, maybe you just want a zip code or a postal code. What you want to make sure is that you don't leave this entirely up to Google remarketing pixels. As helpful as they can be in certain contexts for certain purposes, what you don't know with a remarketing pixel is that person's name, you don't have their email and therefore you have very little control. So those three things are donor value proposition, video and a call to action above the fold.
Social Media Engagement Strategies
Ephraim: Excellent answer. Let's move to social media. What are your top three engagement strategies that nonprofits need to employ in order to build relationships with followers?
Brock: So one it's going to sound simple but it's easier said than done is, you got to give them something to do. You got to give people something to do because if you're not and you are using social media, then what you're probably doing is you are just pushing one-way communications at people. You're just saying, here's the thing, here's the thing, here's the thing, when what will really make you unforgettable and what's really going to start to build trust and loyalty and generosity amongst your audience is if you give them a thing to do. They do it, you thank them, you report back. This is where the reciprocity kicks in. There is nothing new about this but far too few charities see it as just a 'set it and forget it channel' and if they're not raising money, that's very likely why. A second thing I want to… is a little more technical, is optimizing for dark social. Have you heard of dark social Ephy?
Ephraim: Are you talking dark mode or dark social?
Brock: I'll explain how I understand it and there there's some writing out there about if you want to go and Google this. Dark social essentially means it is the places where people are sharing social media content but it's like below the surface, it's in private channels. So it might it might look like you just see an incredible tweet thread, Ephy goes off on pharmaceutical industry. I may not retweet that but it is so interesting and so engaging that I'm gonna grab the link to the first tweet of that thread and I'm going to text it to my friend, I'm going to put it in a Whatsapp group to some other fundraisers. It's those sorts of below the surface. While dark social may sound kind of ominous, it really just means make things that are so good that you want to paste it into those threads and send it directly to friends who probably care and who might want to be able to do something with it. A tweet that just has a one-page image that we often call shareables and shareable content, in social media those look great. They might garner a retweet and a like on Twitter or like on Facebook but i don't often get sent those from my friends directly. Did you see this? Have you read this yet? This is a quality over quantity type conversation where you may want to actually dial the quantity up, quality down.
So give them things to do, optimize for dark social and then actually talk to some of these people in as close to in person as possible. You know hopefully we're only a few months down the road from being able to invite people into your boardroom but if you see social media as being a channel where you can engage with youth or a channel where you engage with Boomers or people in a certain community online, web developers, you name it, if you see social as serving a purpose to reaching a certain audience, talk to those people and talk to them on a fairly regular basis. Biannual I hope would be achievable and in those round tables call them roundtables, call them focus groups, just ask some really open-ended questions, like what do you use Twitter for? What do you like Facebook for? What do you not like about Facebook? You're gonna learn some really interesting things and I've done this to great effect when I was at a an international development charity. We brought youth in and we talked to them and I learned about so many acronyms and hacks and workarounds that they were using. I learned about Finstas which is like your fake Instagram profile. I learned about how they were using the Highlights function. Chances are they're doing far more than you think and you're going to get inspired and you're going to have a content to-do list that will keep you busy for quite some time.
So those are my three things: give them things to do, optimize for dark social and actually talk to the people you want to reach.
3 Ways To Use Email To Build Relationships
Ephraim: All three of those are great. I just learned a new term dark social. I didn't know that was the term that it's now called but that third one I love. The chance to… it's called social, so actually be social, beyond the computer or your phone. I really like that. That third one's an excellent idea. So let's move to today's actionable item: Please tell us three ways or strategies nonprofits should be making use of email to help build relationships and eventually convert subscribers into donors.
Brock: Sure sure. So the first one I'm gonna state the obvious but like some of my other points need to be said. Some people need to hear this. Make sure that everybody that can be on your email list is on your email list and that is again easier said than done. First and foremost, abide by all the privacy restrictions, laws, guidelines of your country. They're going to be a little different wherever you might be. But what I see time and time again is that charities often have little pockets on the internet where the donations might be getting processed. Here in Canada there's a popular platform called ECHOage where people can host their birthday fundraisers there, their kid's birthday fundraisers and in order to get those emails or in order to process the donations, you get emails, you get contact information…comes in, not everyone is especially diligent about…  I'm pausing my video just for a moment while my bandwidth catches up. So the point here is that you may very well in nooks and crannies throughout the Internet have contact information of donors who are supporters of your cause but you haven't done that manual housekeeping of bringing them over and you need to do that sooner rather than later. So setting up some simple processes just to make sure that they're coming in on a regular basis, because you would not want to bring in someone who's been sitting on a third-party platform for three years and not been communicated with. Make it a monthly task, make it bi-weekly task. It's a great intern task type of thing. So that would be one.  That's one actionable thing. Make sure everyone who should be on your list is on your list.
The next is synchronizing your email list with your database. Now doing this might solve the first one but I think it's worth noting, as it's a point on its own. If your email list and your database are very separate and static and you rely on moving information back and forth, then you are losing it and you're also losing communications with donors and it's proven time and again that the faster you can thank someone and the faster you can acknowledge any kind of support, the better. If your database doesn't sync with your email provider, then I would strongly encourage you to in some form, whether it's an RFP, a procurement or it's a volunteer intern task, to do a market scan of what tools are out there and whether or not they communicate with your system. It's well worth the time and even if it comes with a larger price tag, I'm certain you'll make the money back. You might pay another say thousand dollars to pick a big round number out of the air. You might pay an extra thousand dollars a year but if what you are then able to do is to thank people more quickly, to acknowledge their interests a little more on the nose and the emails knock it out of the park, you're gonna make far more than a thousand dollars that year in donations.
Third is if the platform that you're using has the ability to automate your emails, maybe you have timing windows in between them, this one, then send this one two weeks later, then this one three weeks later. If your tool has any of that capability and you're not using it, get familiar with it. Test things. Start very small and grow and grow and grow because these are incredibly powerful tools. We talk about AI, artificial intelligence and machine learning as if it's on this pedestal, this out of reach thing that engineers and scientists are playing with, when in fact machine learning and AI is really just a complicated series of if-thens: If this happens then that happens. You have that at your disposal potentially if you're using a Mailchimp, Luminate online as a Blackbaud tool. Chance there's a very high likelihood you may have these tools at your disposal. You just got to get your hands dirty and get in there and start playing with it, because then you can start to set up things like if Ephy opens email X but doesn't click, then resend this email three days later. And you can get really really really clever with the journeys that you send people through. Like if donor A selects clicks this button, then send them this research report two days later. We can be really really thoughtful about that. So those are what I think are my three actionable ways to raise more money with email: Make sure everyone's on your list, make sure and or pursue an integration between your email and your database and then play with automated sequences if you haven't already.
Which Appeals Work Best Online
Ephraim: I love what you said there at the end was get your hands dirty. A lot of… when there's a fear of trying something new, I don't want to mess up this, I don't want to mess up that. Get your hands dirty. It's the only way you're going to learn and figure out the systems that are going to work for you or your nonprofit. I love that. Fundraising: Are there specific types of fundraising that work better in the digital sphere than others? For example, let's take year-end appeals versus capital campaigns.
Brock: So I'm going to give a very unsatisfying answer that would be met with groans if we were standing in front of… if this was an in-person panel, in front of a room of people, we'd get a groan. But the reality is that emergency appeals work very very well. That's disaster relief. That's something happens to my neighbor to the south and groups of people revolt by donating to Planned Parenthood. These things that they spring up out of nowhere, they do incredibly well online. They benefit from a very short, brief unpredictable often window of time but the amount of support and fundraising and energy that comes out in those 24-hour windows is incredible. Now I think it's worth saying that and coupling that with the fact that the organizations that tend to benefit from those uprisings of support are the organizations that have been doing good work consistently year after year after year and communicating that good work consistently year after year after year, so that when the opportunity is dropped in their lap, they are ready and they can catch it and they can run with it and they can put it to good use.
What gets really incredibly challenging for everybody else is it can feel like a game of whack-a-mole, where oh my gosh everybody's talking about child labor, everyone's talking about child labor and if you're an organization who has not gotten an engaged strong user base that you've been talking to for quite some time and demonstrating impact to, if you haven't done that and you try to jump on that bandwagon, it's going to feel like whack-a-mole, like you're  going to swing for that mole as it pops up and just as  you… it's gone and the bigger lesson there is the fact that emergency appeals do so well should be reason to try and make sure that you are consistent and clearly communicating your impact. If you're a non-emergency organization, then I don't have too much more to add here other than engage consistently and when you need the money and when the need is incredibly clear, put it out there and ask for the help that you need because chances are that is when the goodwill that you have built up through all the in-between periods might coalesce behind what you need. 
In my book I talk a little bit about how energy and enthusiasm out there in the world and especially on social media… the Law of Thermodynamics, that energy cannot be created nor destroyed. I'm pausing my video again. The Law of Thermodynamics that energy cannot be created or destroyed, that it can only be transferred, it's very much in effect on Twitter and on Facebook. All that potential energy is stored out there, it just often isn't in a form that powers your organization and every once in a while, it does come together and being ready is really your best preparation that you can do for it and being ready means just understanding your voice, your tone, who your audience is, how you want to talk to them etc.
Ephraim: So you're saying constant communications with your donors is a good thing? 
Brock: Yes and authentic, truly authentic. You might want to sound like a human for once.
How Digital Fundraising Builds Donor Loyalty
Ephraim: So let's continue with fundraising. How can digital fundraising, you kind of touched on it but I'd love to hear you expand on it, how can digital fundraising build donor loyalty?
Brock: Yeah I did touch on it and to put a fine point on it, I would say it's consistency. Don't lose sight of the fact, please don't lose sight of the fact you were hired to do a job. You may not think of it that way. I bet a good chunk of your donors do think of it that way, that you were hired to do a job and now once you do it, you have a responsibility to show them that you did it, to tell them what you did, show your work. I have a big sticker here right on my laptop that says "show your work" as a reminder that just because you did it doesn't mean people know you did it. Just be consistent, communicate often, communicate authentically and show your work and that is going to contribute directly to loyalty.
Let's Learn More About Brock
Ephraim: You sound like my math teacher when I was in school. Show your work, don't just give me an answer. Show your work. I like it, I like it. That's a great step. Alright, let's move on to the lightning round and learn more about you. What got you started on your nonprofit career path?
Brock: Yeah that's a cool question. One summer in university I couldn't find a full-time job, which would have been ideal. So I moved back home, lived with my parents and I worked four part-time jobs simultaneously. I worked in a hospital kitchen in the early mornings, basically defrosting patient meals. Then during the daytime I was a sandwich artist at Subway and then in the evenings I was a bouncer at a honky tonk bar where I had to wear a horrible uniform and then I was working at the hospital foundation… started out just cleaning the stock room, taking the obituaries and marking the deceased members of the community who were in there. That true small town frontline fundraising. I fell in love with it and that's what kicked everything off.
Ephraim: Wow, okay. You had a busy day I see that summer. If you could shake up one thing in the nonprofit world, what would it be?
Brock: I would nip in the bud, though it's probably more than a bud the fact that I'm talking about it, I would nip in the bud this misconception and oversimplification that to be donor centric just means you have to say you a lot, you you you you, because it is far far more than that to be truly donor centric. It means you should have a deep understanding of what your donors, not necessarily all donors, what your donors… what do they want from this relationship, how do they want to be communicated to, what materials do they want, at what intervals and what should they say, how do they want to be solicited. It's these questions that are a lot more slippery to grasp that make an organization truly donor-centric. It's not just using 'you' three times more than use the word 'we' in a direct mail letter. 
Ephraim: I think that two things just happened. The skies opened up, the angels are singing, the sun is shining based on that answer because you know anybody who's listening should have just heard that and go, aaahhhh that moment. The other thing is that goes back to your answer about social media, actually talking to people. You can get those answers if you just communicate with them. They'll tell you and now you have all that information and now it makes your donor communications way better. Excellent excellent answer. I love it. Hardest part of writing a book?
 Brock: The follow-through. I was that person who said I'm writing a book, I'm going to write a book, I got a book, I'm going to do a book. I talked about it for years, never followed through. I started this one three times, didn't follow through and circumstances came together as well as the motivation necessary to just get it done. It's a very long path from the blank page to the first royalty payment being dropped in your bank account and sticking with it. The fulfillment that comes at the end of that is incredible and I'd recommend anybody who's that person that I have been saying, that they've got a book in them, go for it. Follow through. It's the hardest part but it will unlock the most fulfilling part.
Ephraim: Love it. Favorite and least favorite social media platforms?
Brock: My favorite right now is LinkedIn. I like the positivity of the community. If there's a toxic underbelly of LinkedIn, I'm not part of it and it's not… I love that everyone seems to be there for each other. I find myself coming back to Twitter more in the last year or so for a few different reasons. But I like the news, I like the news updates there and I like the authenticity of some of the conversations that's there. But there was a period when I didn't spend much time on Twitter but I'm coming back around. If you want to say hi, @brockwarner. Should be easy. I've played with TikTok and it is incredibly addictive. There's something there but I wouldn't put it at my most liked because I actually like and get the most out of LinkedIn.
Ephraim: Got it. My kids refused to allow me to go on TikTok. So I can't go there. You talk about storytelling in your book. Share with us one story from childhood that you'll never forget.
Brock: So I tried to dig quite a bit back and yeah I have a memory of my dad bringing home a PC laptop from work and I googled until I found what I thought my memory says it looks like and I think it's an IBM pc. I wrote it down, Convertible 5140 so that might mean something to some people. Doesn't matter if it does. I remember dad coming home and I remember playing Prince of Persia on it and just being danced by it. In hindsight isn't this cool and I grew up with a Nintendo in the house but there was something about the computer, this thing that felt like an out of reach work tool becoming some place that you can play. That has really really stuck in my mind. And if Prince of Persia just stuck, I struck a… what's the word… a nostalgic note for anybody out there, I would say check out there's a great video with the creator of Prince of Persia, Jordan Mechner, online about his path going through building it. It's fascinating. He wrote a book as well.  
Ephraim: I love that story. Last question. We'll turn the table. You get to ask me a surprise question, I have no idea what's coming. Go ahead.
Brock: Where do you keep your ketchup?
Ephraim: In the fridge. This is a very contentious issue among people, as to whether you leave it out or in the fridge. I'm a condiment fridge guy. My mustard, my ketchup, barbecue sauce, the teriyaki, the soy sauce, the chili sauce, all that stuff, the hot sauce, all of it, all in the fridge.
Brock: All of it. Wow. Fascinating. Well I'd love to hear… I'd like to watch the comment section. If anyone's made it this far…
Ephraim: It gets worse because if I see that the date on the ketchup is coming close, I'll finish it or I'll throw it out. I'm a guy who won't use things after the date either.
Brock: Oh my gosh. This is what I want the comment section to reflect. I want this from everybody.
Ephraim: Yeah everybody should just forget the last 20 minutes of smarts. Please only concentrate on the issue of ketchup in the cupboard or in the fridge. Very important. Brock, that was the best… that was an excellent question. Loved it.
Brock: I'm glad you liked it.
Ephraim: Bock thank you very very much for appearing on the podcast. You can learn more about Brock's work on his website at brockwarner.ca  I also encourage you to connect with him on LinkedIn. Was a pleasure having you here as a guest.
Brock: Thanks so much for having me. I had a blast.
Ephraim: My pleasure. Have a good day.