The Podcast for

Nonprofit

Pros like YOU!
Nonprofit life isn't just about fundraising. It's about storytelling and data and email marketing and website content and demonstrating gratitude and advocacy and graphic design and copywriting and management and grant writing and… 
Let's start again: Nonprofit life encompasses a wide range of topics. Sometimes, you don't have time to keep on top of all of it. The Your Weekly Dose of Nonprofit Podcast is here to help! Each week we'll feature a sector professional with an expertise in a specific field related to nonprofit life. In 15 minutes you'll have actionable items you can implement right away at your organization.
This podcast will deliver information that is relevant to any nonprofit role you fill. You'll meet nonprofit experts who are more than happy to share their smarts with you. They'll utilize their years of experience in the field to help you improve your work. 
Our goal is to help you broaden your horizons. Personal growth and professional development are not only important for you but they're critical to the survival of your organization.
Listen, watch or read each episode.
Learn, implement and grow.
Below is a list of guests who have appeared on the podcast and the topic they discussed.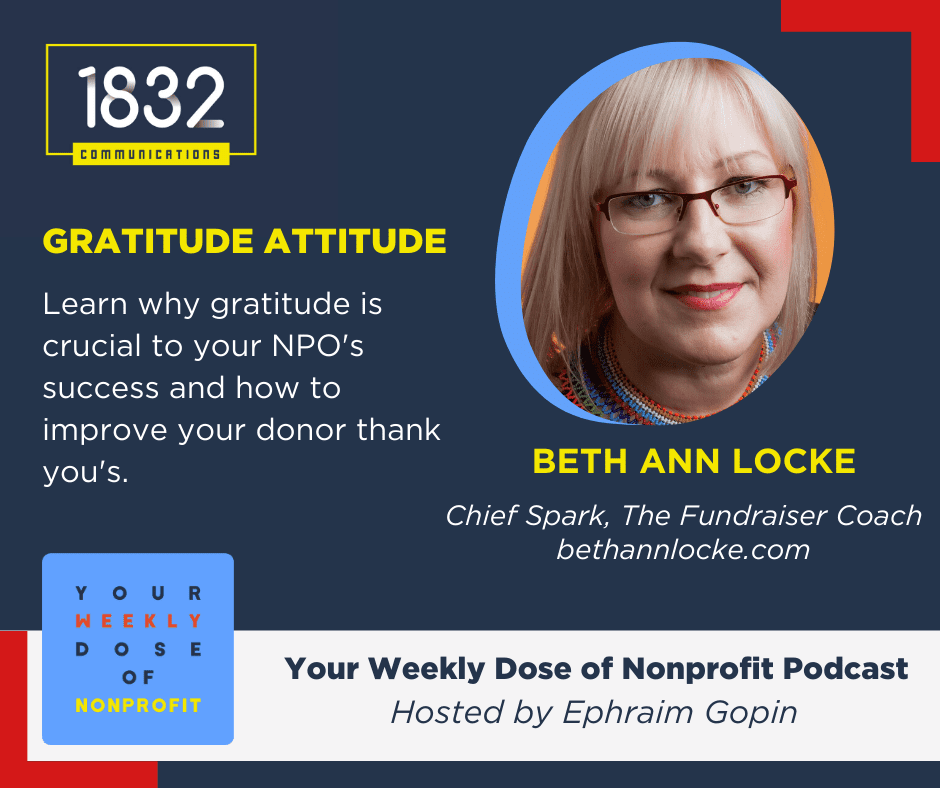 Episode aired April 30, 2020: Gratitude Attitude
Beth Ann Locke knows that having a gratitude attitude is critical to the success of every nonprofit. Over the last 25 years she has been a donor champion and raised millions of dollars for small and large shops in North America. 
In this episode, Beth Ann will tell you
why it's important to remove the transaction from a donation

how to improve your thank you letters to donors

why handwritten notes and cards are so important and

why fundraisers need to possess grit, grace and gratitude.
Click here to listen, watch or read this podcast.