The Personal and Fun Stats (Let's admit it, the vital stuff!)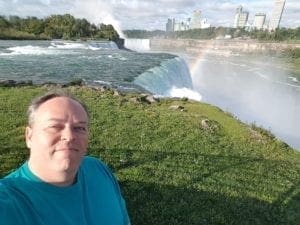 If you ask Ephraim's friends, they'll tell you he never really left the 80's. They're not far off. 80's pop music, culture and foofy big hair (Platinum Blonde!) make Ephraim smile.
Let's start with the personal:
Born in 1972 in New York. Moved to Boston, Jacksonville, FL, New London, CT and Toronto, Ontario. That's quite a lot in the first 17 years of life but the experience helped build character, meet new and interesting people at each stop and most importantly, it means Ephraim has no discernable accent. Though 30 years later, he still skips the second "t" when saying Toronto.
But what does he like? Here's the definitive list. Ephraim's always happy to discuss any of the below topics. Hit him up on Twitter!
Favorite cartoon
Anything Looney Tunes but specifically: Rabbit season, duck season
Favorite kids' book
The Phantom Tollbooth
Favorite adult book
Pet Sematary (Ephraim is a Stephen King fanboy)
Favorite comedy skit
Abbott and Costello: Who's on First. When Ephraim was 9, his uncle wrote out the skit for him and Ephraim learned it by heart. Third base!
Favorite music
80's pop. Greatest ever.
Favorite arcade games
Space Invaders, Skeeball
First movies seen in the theater
Star Wars, The Rescuers, Pete's Dragon
Funniest movie of all time
Airplane. There's no argument. Don't even bother.
Favorite all-time movie
Wizard of Oz
Favorite song
My life (Billy Joel)
Favorite sports teams
Red Sox, Celtics, Patriots, Bruins
Favorite Stooges
Curly, Mo and Larry. Shemp and Joe don't count.
Favorite TV shows
All in the Family, Cheers, Married with Children
Favorite band
Glass Tiger
Hobbies
Puzzles, cooking new recipes
Current ringtone
This
First music video watched
Invincible by Pat Benatar, on MTV, summer of 1985
The best 9:54 on YouTube
Steve Almond rips apart the lyrics to

Toto's "I Bless The Rain"
Now you know more about Ephraim. Tell us more about yourself!