GIVING TUESDAY IS COMING!
Sorry about the all-caps but that was the tone of the steady stream of tweets, posts and Instagram pics being thrown my way. Organizations were spending time and resources for a day of global generosity. Well, supposed giving.
I'm not a big fan of Giving Tuesday.
With so many organizations asking for money, Inboxes and Facebook feeds get too cluttered for an organization to stand out.

It interrupts every organization's big push: year-end giving, with the holidays and tax receipts as incentives. People are in a giving mood! And then the sector cuts into that by diverting its energies into convincing people to donate via Facebook. Where will you have more success: A direct mail piece individually addressed or a Facebook post directed to everyone but no one in particular?

Facebook doesn't pass you donor information which makes retention impossible.

You're spending precious time tirelessly crafting the right message and designing the year-end appeal to elicit the necessary emotions to increase giving. Giving Tuesday disrupts your flow and turns your attention to 'give give give because today is Giving Tuesday'!
Yes, I'm talking in generalities but as I looked at the nonprofit landscape and talked about Giving Tuesday activities with numerous colleagues, I heard of CEO's who assumed that running a Giving Tuesday campaign would yield huge dividends. Now go ask your nonprofit friends whether their Giving Tuesday campaign was a success. We already know the answer.
So instead of being frustrated by this annual event, I've decided to celebrate two organizations who used Giving Tuesday as a way to say thank you and one who changed the name for a specific (and successful) campaign.
Gracepoint Foundation (Tampa, Florida)
The Gracepoint Foundation tweeted this out: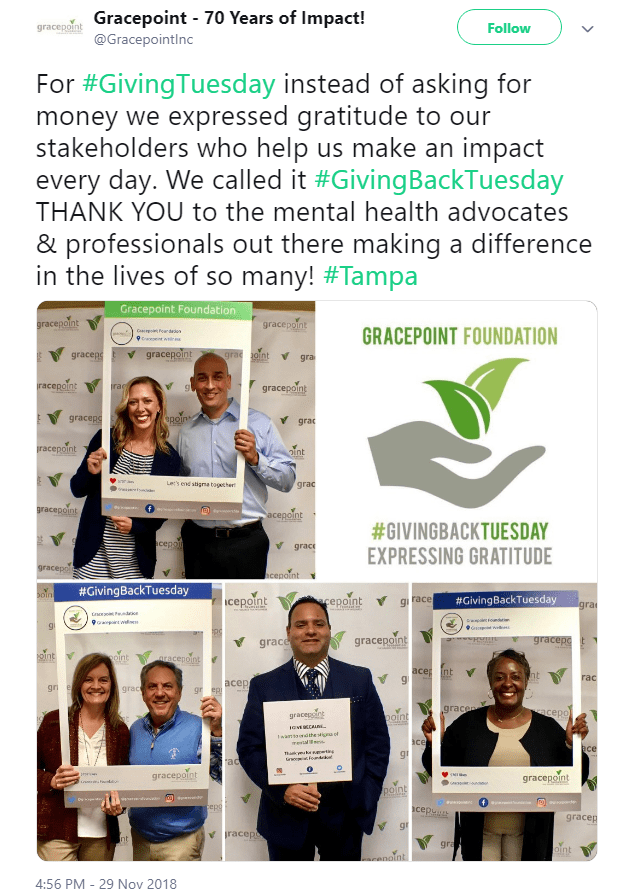 I LOVE this idea! They used the day to show gratitude and help spread the love. Yes, donor appreciation is a 365 days per year job. But in the hubbub of daily life, we don't always have the opportunity to express our gratitude properly. This foundation took a day of giving and turned it on its head. Kudos!
Food For Life (Burlington, Ontario)
My friend Jim Martin, a consultant with Food For Life, forwarded me their Giving Tuesday campaign: They converted Giving Tuesday into Giving Turkey's Day. Food For Life used personal emails to educate the public about the 12,000 local people who face hunger, don't have money to buy food and made a simple request: donate to feed a family. The emails included humor and yes, a man dressed as a turkey. All for a good cause. Which did surpass its goal!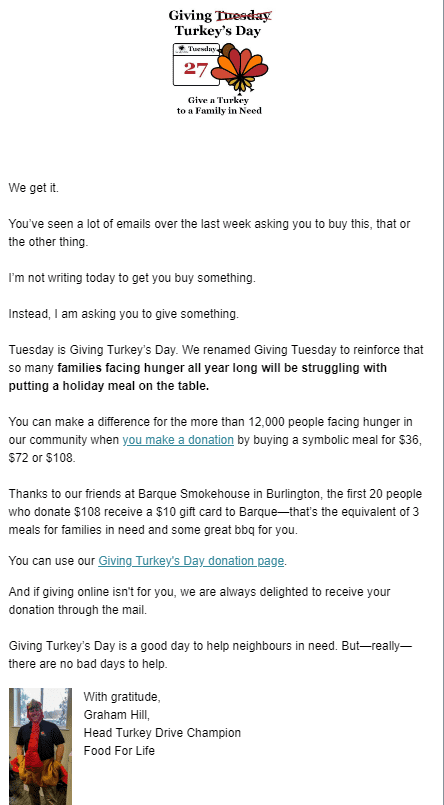 Boston High School
As pointed out to me by my friend Robin Cohen, a Director of Development and School Partnerships, one Boston high school also decided to use Giving Tuesday as a day of giving back. They sent their donors and supporters this email:
Along with the email, they sent a picture of their students holding up thank you signs. Simple yet effective. A nice way of saying thank you and personalizing it. Donors can see the faces of the young students being helped by their donations.
Did your organization participate in a Giving Tuesday campaign? If yes, what were the results?