Super Bowl Sunday is almost upon us and you all know what that means: Advertising!
Companies pay millions to broadcast some really, really bad ads and a few good ones. My favorite so far headed into Sunday is Sonata's smaht pahk (read it with a Boston accent. It's a wicked pissah!).
FOR THE CULTCHA. Chris Evans, John Krasinski, Rachel Dratch and David Ortiz: together at last. pic.twitter.com/YmVKOkERHR

— Red (@SurvivingGrady) January 27, 2020
Each year there are brands who use their 30 second ad for cause marketing purposes: They tie their product to a cause and every time you purchase the product or take an action, the brand donates to a specific organization. Win win for everyone: Brand makes money, a cause gets massive exposure and people buying the product feel good about themselves.
Cause Marketing
Joe Waters, THE foremost cause marketing expert in the U.S., defines cause marketing this way: Cause marketing is a partnership between a nonprofit and for-profit for mutual profit.
With that as a backdrop, I took interest in this article, describing Michelob Ultra Beer's Super Bowl ad and it's "do good" component. Here's the ad:
Sounds like a great deal: You buy a 6 pack, they convert 6 square feet of farmland to organic. Win win!
For starters, the cause somewhat matches the brand: Michelob promotes itself as the "first national beer brand to be USDA-certified organic." Makes sense for them to promote a cause that is somewhat connected to their core. But as Russ Stoddard pointed out: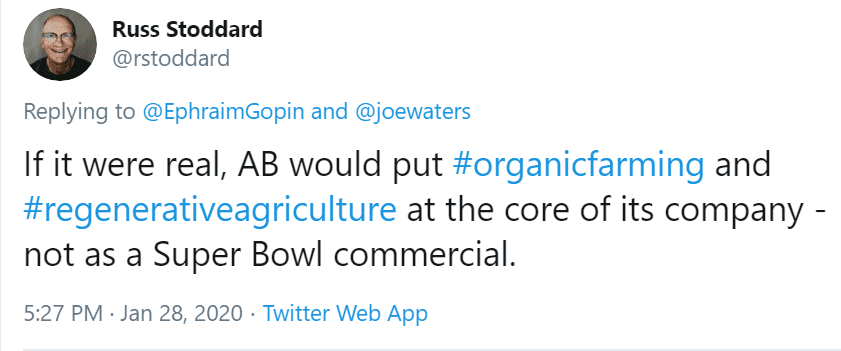 The Math Behind A Stunt
Being a bit skeptical, I decided to take a deeper dive into the math and the actual offer. I wanted to see how serious Michelob was being about converting farmland.
My apologies to those of you who hate math and big numbers. I'll keep this short.
We'll start with our buddy Joe Waters, who did the initial math. (I didn't check it but I trust him 😊 )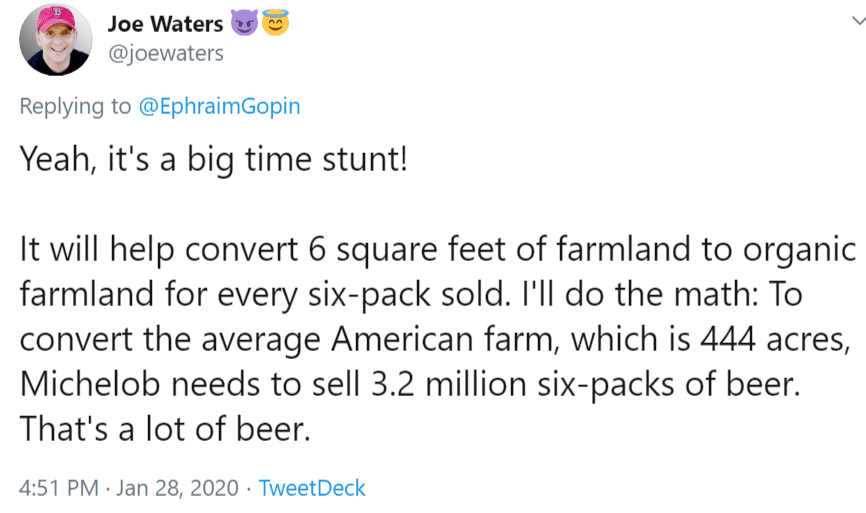 Then I went to work. Did a little research and here we go:
Each 6 pack beer = 72 ounces

In 2017, Michelob Ultra shipped 7.7 million barrles of beer

Each barrel = 3,968 ounces

Each barrel = 55 six packs of beer

7,700,000 barrels = 423,500,000 six packs of beer
If all they sold were 6 packs, they'd be able to fully convert 132 farms to organic. Sounds amazing! Until you realize this…
Lemme answer that:
There are 2 MILLION farms across the U.S.
132 isn't a whole hell of a lot.
So like you said: A stunt, a promotion and that's it.

— Ephraim Gopin (@EphraimGopin) January 28, 2020
Great Marketing, Less Cause
I'm well aware that Anheuser-Busch (Michelob's parent company) is paying $5 million for a 30-second ad on Super Sunday. And that ad could potentially raise a LOT of awareness and create change.
The overall idea is a good one: Help farmers to offset the cost of going organic. But as the article above points out, if Anheuser-Busch were serious about the issue, wouldn't it make more sense to convert a whole bunch of farms and then use ad time to inspire viewers with stories, not purchasing beer? Their way basically says: We can't help farmers unless you drink beer. A HELL OF A LOT of beer!
I'm probably the only person who did the math. For most viewers, the math is not important. If the next time they go shopping for beer, wanna feel good and remember the ad, they'll buy a 6 pack of Michelob.
Will that actually convert farms to organic? Not really. But their ad did get you to choose Michelob over Bud. So there's that.
P.S. Great taste, less filling was one of the best ad campaigns of all times. If you love sports and entertainment, see how many people you can identify!
Does your organization need a fresh set of eyes to analyze your current marketing strategy? Let us help! We'll provide a spark for your social media presence, check-up on your communications and give your website a big boost. This is the marketing kickstart your organization needs!
Hey nonprofit pro! I publish an e-newsletter Monday-Thursday which delivers content to your Inbox that's relevant for any nonprofit role you fill. Expand horizons with one click. Subscribe today!