Sometimes a piece of paper isn't just a piece of paper.
Two simple pieces of paper taught me about asking and giving back.
The ask
I was riding the train in Israel. An older gentleman came into the car and distributed this to everyone: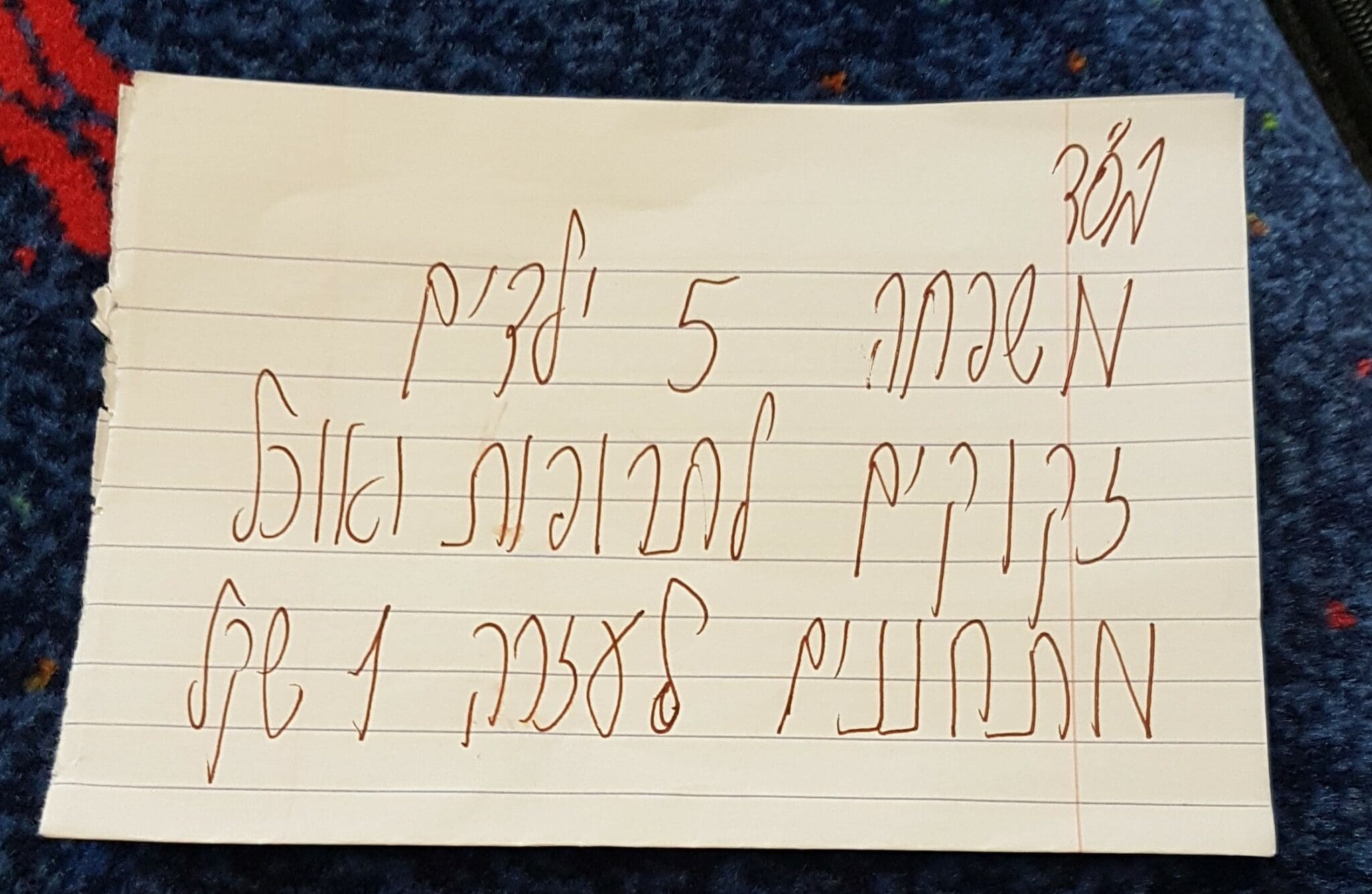 It reads: "A family with 5 children needs medicine and food. They are begging for help. Please give 1 Shekel (about 32 cents)."
I know how much time you spend crafting all your appeals, whether they be year-end or for other campaigns. You try to find the best angle, the emotional story, the words that will tug at the hearts of readers and cause them to give.
Sometimes the best asks are the ones that are the simplest and straightest.
The above card tells you everything you need to know: Who it's for, what they need, how you can help.
Your fundraising asks should spell out a problem to donors and how they can solve it (by donating). If it's too complicated, they're not going to donate. They'll delete the email or throw out the letter.
Remember that people give because they want to make the world a better place and be part of a larger community of do-gooders.
The above card? Everyone on the train understood the ask. Almost everyone on the train gave a donation.
Simple But Brilliant Idea
Swag and merch are a great way to encourage people to show off your nonprofit. Whether it's clothes, stickers or pens, people are happy to let others know they support your organization. Swag is a great way to say thank you to supporters but also start a conversation and maybe get others interested in your mission.
But at times it can be difficult to find merch that hasn't been done already. You want to be original and distribute products that others haven't. This also means that items you send people may not get used as they already have 27 of them. (I have plenty of pens, thank you very much!)
Which is why, when I saw this at a friend's house yesterday, I smiled: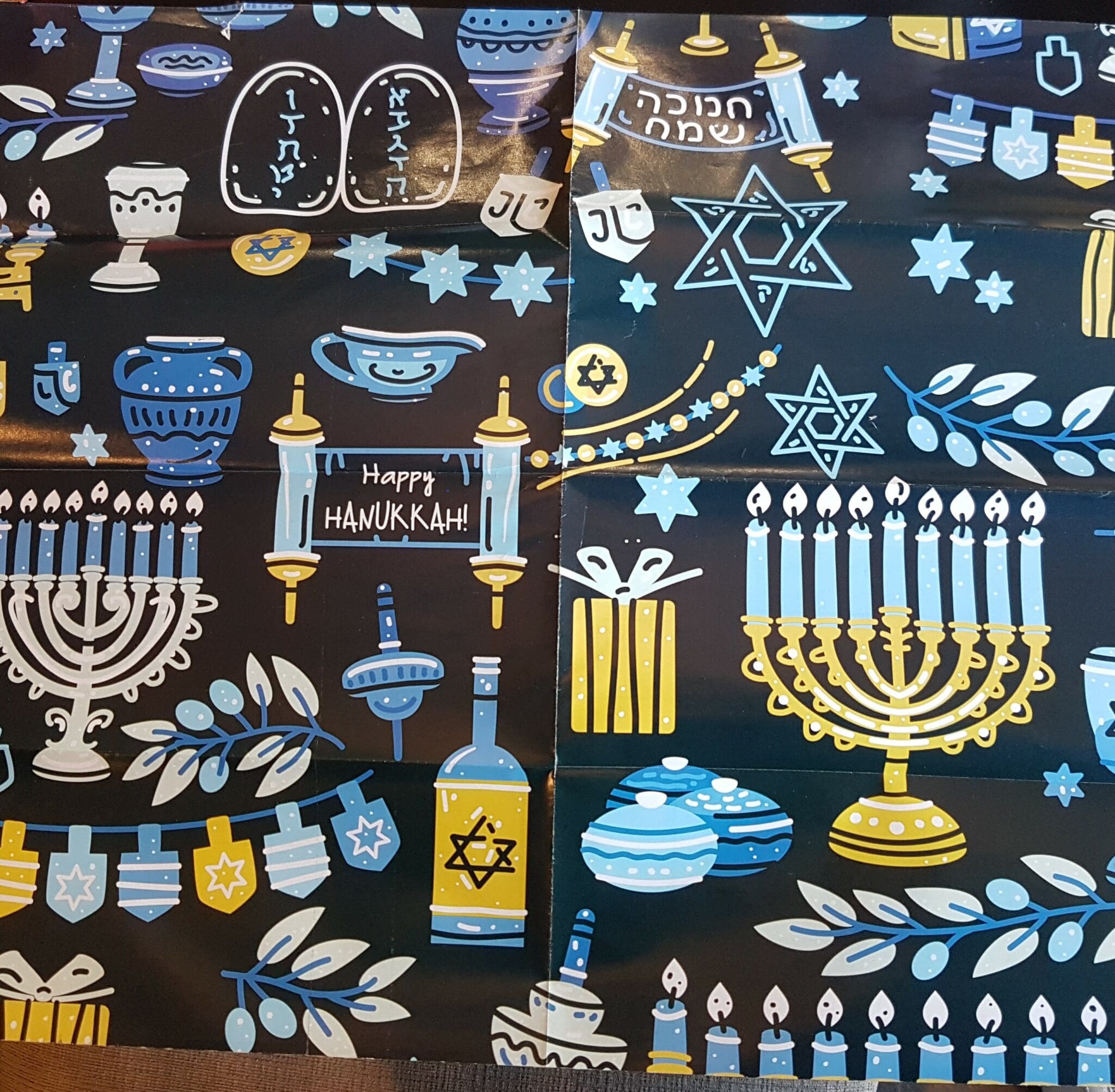 Hillel sent this to all of their members. It's wrapping paper! (On the flip side is the Hillel's name and logo)
On the Jewish holiday of Chanuka (upcoming in two weeks), some people have a custom of giving presents to their children, family and friends. So instead of sending a Hillel keychain or hoodie or mousepad, Hillel said thank you to members and supporters by sending them something different.
It's unique. Very practical. It's helpful. And people will happily use it.
It may just be wrapping paper but I like the fact that they sat down and thought: "What do our donors need" rather than only thinking about what Hillel is interested in giving.
If I had to guess, most people who received this in the mail will end up wrapping a gift in it. A fantastic Chanuka gift!
More Than Just Paper
I'm a big believer in learning from everything and everyone. The more I learn, the better person I become and the better job I do for my clients.
A piece of paper might seem simple. But sometimes a paper isn't just a paper. It's a tool for learning.
P.S. Consider that sometimes the simplest gift is the one most people will appreciate.
Giving Tuesday and year-end fundraising are coming up fast. Your organization will be prompting people to donate online. But is your online donation form user friendly? Does it help or hurt your fundraising? Sign up today for my Online Donation Form Boost so you can raise more money from more people.