A guest post by Francesca Dobbyn
I knew eggsactly what my community needed. We needed a yolk, something to crack us up. It was just nogging at the back of my brain to do something not rum of the mill.
Omicron was spreading fast and furious, the holiday season loomed with all its pressures. Two years into the pandemic, we had pivoted so much we were back to where we started again, the full 360. Besides, it's December in Canada. It's cold and the warmth of an April afternoon seems a long way away.
Taking a break, I read Ephraim's newsletter and this article jumped out at me.
I'll give you a minute to go and read it…I'm going to make an omelette.
So the question was: how could we take the battle of dogs versus cats (team cat here all the way) and raise some dollars, while having fun. I honestly ran through some really dumb ideas.
Such as:
Vote for food bank food "Kraft Dinner or not KD?" – not playing with big macaroni
Vote "Toronto versus the rest of Ontario," – Toronto bashing is a hobby in rural Ontario, so not really much of a competition.
This competition brainstorm was going darker than a 7am rainy morning in November.
I knew it needed to be polarizing. No room for fence sitting. It needed to be fun, not political, not pandemical and certainly not evil.
The Eggnog Campaign
Then, for a reason that I cannot make my tired brain remember, 'eggnog' popped up in my thoughts.  People either love eggnog or they hate eggnog. People don't contemplate an offering of eggnog. It's also a seasonal food and topical to the holidays, so the timing was right.
Alone at 6:30am in my office, I giggled at the absurdity of it all.
Wandering around the internet looking at eggnog recipes, to better understand the product (lactose intolerant here, so team 'not nogg') I came across the phrase "eggnog is the candy corn of Christmas" and I knew I had my battle and my catchphrase.
This is where I tell you it's now about 7:30am and an hour from reading the article. The whole "go to the office early to get stuff done in the quiet" became "be at the office at a ridiculous hour so you can wallow in creativity and no one is there to save you from idiocy" or otherwise known as "Monday."
I jumped into our CanadaHelps event manager, drafted up the page – $5 to vote for either "I hate eggnog" or "I love eggnog". People could donate on top of that too.
I sat back and looked at my latest creation. Such joy to just run with an idea. To let lose the wandered paths of "wouldn't it be funny if…" turning left at "double down on the puns" and up "I crack myself up" hill.

Put The Fun In Fundraising
I shared this noggy idea with some Twitter fundraising colleagues simply to celebrate the wildness of a Monday morning brain and the places it goes.
They promptly told me I had to run with it.
Really, I questioned?
See one of my goals for the past few years has been to be more "professional." To tone down the quirky and run the organization I lead in a more professional manner. I'm constantly undermined by those that know me best and know how to push that button and before you know it I'm wearing a rainbow squid hat on a public Zoom call (true story!).
So is going public with an eggnog battle really in keeping with a leadership pro who has a history of hanging out with groundhogs (Google is your friend)?
As a good friend often says to me "steer into the skid" – that's a Canadian winter driving bit of advice for those of you whose worlds are green, not white, right now.
I purchased eggnogvotes.ca for less than $20 and the page went live by 9am. Two and a half hours from idea to launch.
I shared the link with people and via social media, often with the explanation of "how much am I losing it now?"
Local media, always begging for something fun, joyful and not Covid-19 related, jumped all over it.
My favorite reaction was staff logging into donor software and seeing the ticket sales donations. Yes, before they arrived we had sales and donations and were totally unaware that while they drank coffee and ate toast at a reasonable hour, people were voting on the merits of eggnog.
They slowly filtered back to my office, muttering to each other "do you know what this is?" Appearing at my door with the unasked question on their faces, they greeted me with "good morning…uuuummmm." I swung my chair around (yes, very Dr. Evil) and simply stated, "so I had an idea this morning."
It's an interesting phenomena in my office. I state either "I was thinking" or "I had an idea" and people put their head on their desk, or say things like "oh no". Not sure what that's about.
Good sports every one of them, as I straight faced explained the university study and how everything created was based in solid research and science.
The Campaign Results
So did it work?
People had a lot of fun. We raised $285. Gained 4 new donors. $150 in donations were made in addition to ticket purchases. The total expense was under $30 for the URL, postage for a thank you and voting results postcard.
My youngest child, who works as a vet tech at a humane society, is pondering the original "cats versus dogs" as a fundraising opportunity. There's something about these fundraising battles.
Besides, this isn't the weirdest fundraiser I've ever done. Ask me about our Pokemon Go event from March of 2021!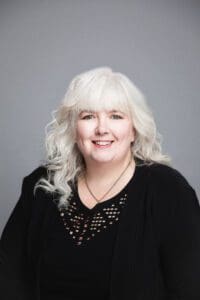 Changemaker and community connector Francesca Dobbyn has served the communities of Bruce and Grey counties as the Executive Director of their United Way for 17 years. Previously, she acted as municipal tourism director and festival co-ordinator for the internationally renowned Wiarton Willie Festival, winner of 'World's Greatest Event,' 'Most Popular Event in Ontario' and 'Best Public Service Announcement' under her direction.