There's no shortage of content types your nonprofit could use when turning to your audience: Video, blog, tweet, story, educational content, survey, memes, humor, images, audio, live video and much much more.
Know what type of content is very popular but isn't used enough? UGC. User Generated Content.
Use UGC
User Generated Content is content created about your nonprofit by your audience which you can then repurpose.
Let's consider an event you're running.
At the event, attendees take pictures and post them to Instagram. They use the post to tell everyone in their network what a great time they're having and about your lifesaving mission.
This is UGC. What can you do with it?
Besides liking the post and thanking the person who posted it, you can share it in your Stories and tag the person. This allows you to shine a spotlight on them and highlight their post.
Your online audience, supporters, donors and volunteers want others to know that they support your organization. They create content to spread the word. They build awareness of your activities to their family and friends.
Their content gets your organization in front of new eyeballs, a new audience. At the same time they are creating content which can serve as testimonials, recommendations and social proof- all forms of content your nonprofit needs to use in its fundraising and marketing materials.
Your job? Find that content, thank the person and share it with your audience.

What Can UGC Do For You?
90% of people prefer to see brand content from actual customers. In that same study, 83% said they're more inclined to purchase from a brand that showcases real customer content.
When we need to buy something, we first turn to our network and ask for recommendations.
Know who else does that? People looking to donate. They ask friends to provide them with names of worthy local organizations.
What about volunteers? If they see their peers volunteering at organization X, that can help influence them to also volunteer there.
Which is why it's so important for you to encourage UGC. When others post about you, their peer network will see and it carries a "seal of trust" which will help their decision making.
We know that trust in nonprofits is down. Know where trust is up? Friends and family.
Ask And Ye Shall Receive
Another form of UGC is content your organization asks your audience to create, that you will then use and spread far and wide.
The Alzheimer's Association has an annual walk-a-thon which they use to raise awareness and much needed funds. However in 2020, they couldn't organize the event because large crowds weren't allowed to gather.
They asked individuals and families to walk and raise money. Which meant they had thousands of mini walk-a-thons happening across the country.
How do you share that content with your audience? Ask your walkers to post!
The Alzheimer's Association asked participants to post pictures of them getting ready and/or walking. They requested that walkers tag the organization and/or use the branded #Walk2EndAlz hashtag in their posts. This allowed The Alzheimer's Association to track all the UGC posts these mini walk-a-thoners generated.
What did they do with all those posts? Take a look: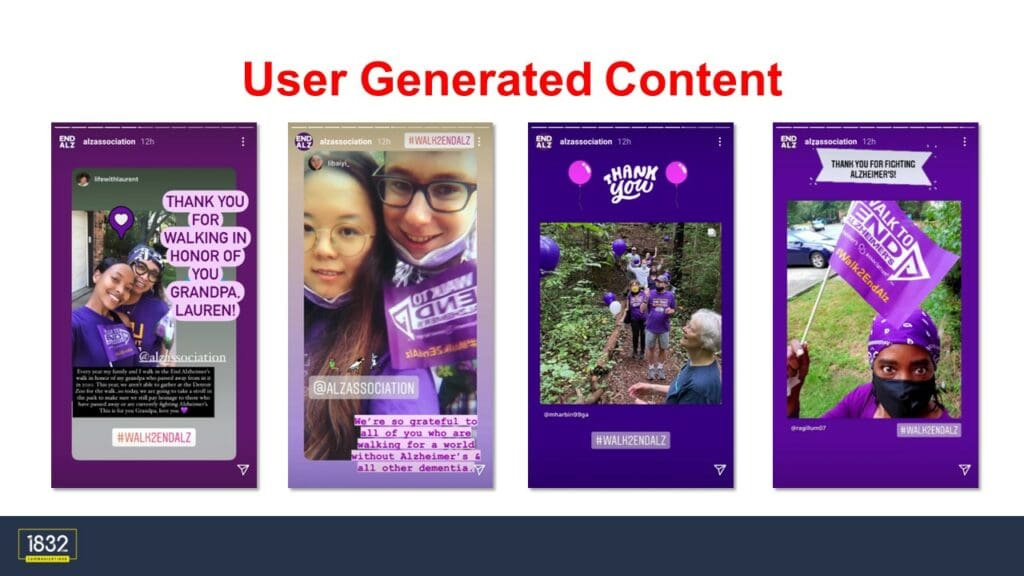 They shared those individual posts in their Stories. They highlighted their walkers with their large organizational following! They added little comments of gratitude to say thank you to their walkers.
An excellent use of requested UGC!
The Benefits of UGC
User Generated Content has many benefits for your nonprofit.
Builds trust in the work you do and impact you have.

Provides you with content you can use and share.

Brings more eyeballs to your work, more traffic to your social media presence and website and potentially can help grow your audience.

It's authentic! Content not created by your team has credibility with the poster's audience.

When you reshare UGC, you are demonstrating the value of your community and how much you appreciate them.

Can help influence decision making related to donations and/or volunteering.

Sometimes it's hard for your content team to come up with new content to post. UGC is content that's already created for you!

By highlighting UGC you shine a light on an individual who posted about you. That gives them all the warm and fuzzy feelings about your organization. It helps strengthen the relationship with that individual.
As I said at the top, there are plenty of different types of content you could share with your audience. But sometimes we're so busy talking about ourselves that we forget that others are also posting about us.
Incorporate UGC into your overall content plan. It can be used on social media, email, website, blog, videos, direct mail and more.
Others are saying good things about you. Say thank you and shine a spotlight on them! It helps build trust in your organization.
Not sure what type of content to include in your emails to help develop relationships with subscribers and raise more money? Contact me today and let's work together so your organization can use email to meet its fundraising and marketing goals.