I am a big believer in learning from the pros. And the nonprofit sector has a ton of great ones you should be following closely!
Today I'm going to introduce you to eight sector experts, each of whom has an enewsletter I believe you should subscribe to.
I have added my own personal intro for each. Below that are details about their enewsletter and how you can subscribe to it.
I encourage you to subscribe, read, learn and implement what the experts below share with their audience. They're the best of the best and we're all lucky they're willing to share their smarts with us!
Eight Nonprofit Enewsletters You Should Subscribe To
Beth Ann Locke is a fundraising, gratitude and relationship expert. I have known her for over a decade and at this point I have developed a custom: I quote her at least once during every webinar I present. Why? Because she brings the smarts!
About her enewsletter…
Name: "The Connection: my love letter to fundraisers and nonprofit readers"
Description: I provide strategies, tactics and insights to help you raise more, with an emphasis on raising major gifts. My 4 focus areas are Asking, Focus, Gratitude and the Alchemy of Fundraising. 
Frequency of sending: Weekly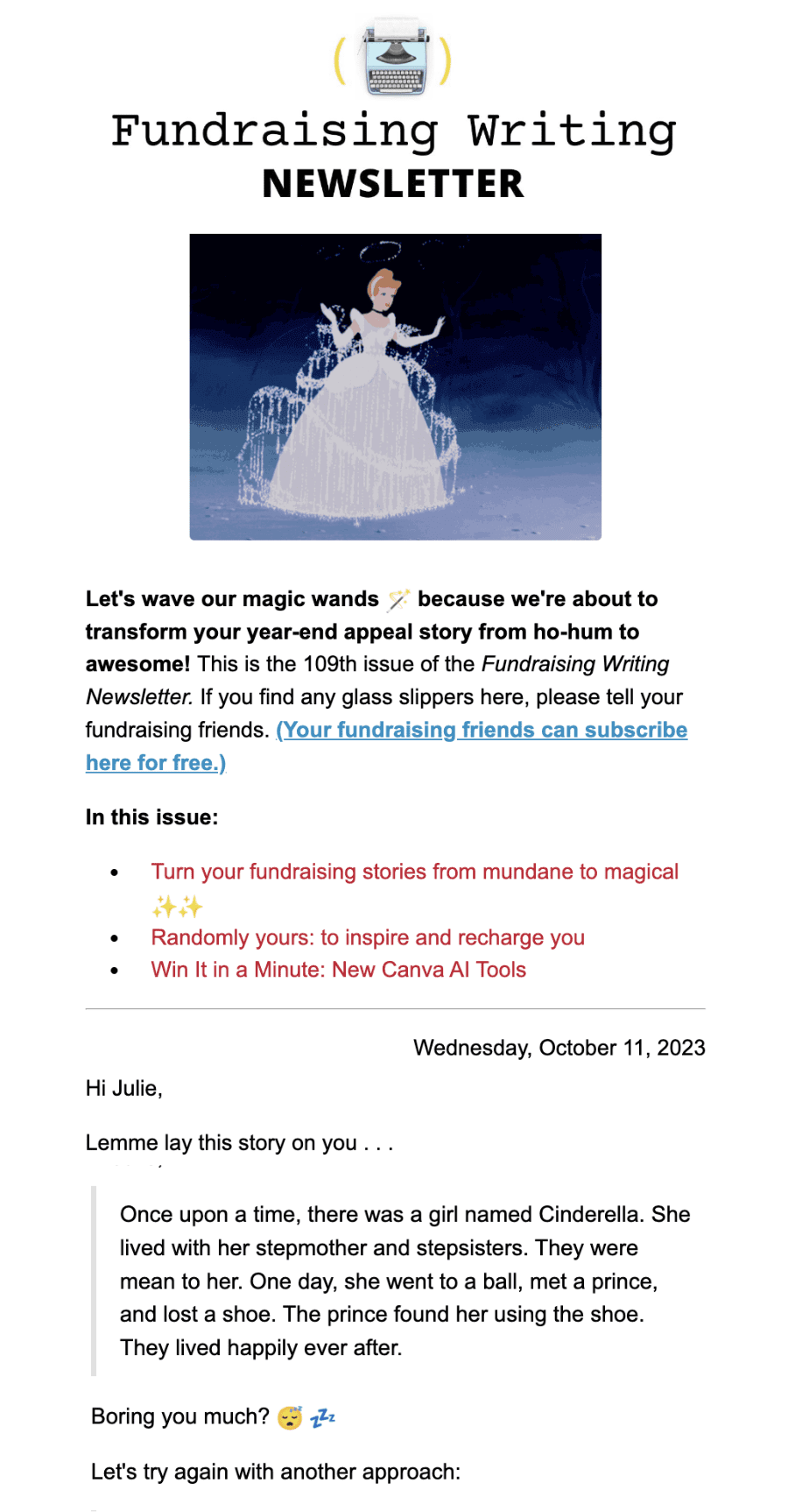 Julie Cooper's enewsletter always makes me smile. It's not just the great fundraising copywriting content she and her husband Brett are sharing. It's the ray of sunshine and joy at helping others that comes through! Julie is an expert copywriter and marketer and I know you'll enjoy learning from her wisdom and expertise.
About her enewsletter…
Name: The Fundraising Writing Newsletter
Description: The Fundraising Writing Newsletter is all about actionable writing tips for more effective fundraising. Free, weekly, helpful, fun!
Frequency of sending: Weekly
Barbara O'Reilly is a fundraising expert, though expert doesn't do it justice. Barbara understands all types of fundraising, management, marketing, copywriting and everything in between. She has a ton of experience at some of the world's most prestigious and largest institutions and you should absolutely take the opportunity to learn from her.
About her enewsletter…
Name of her agency: Windmill Hill Consulting
Description: We provide thoughts, perspectives and tips to grow fundraising results and fundraisers' skills. The enewsletter includes a combination of thought provoking content, event announcements and other fundraising resources.
Frequency of sending: Two to three times per month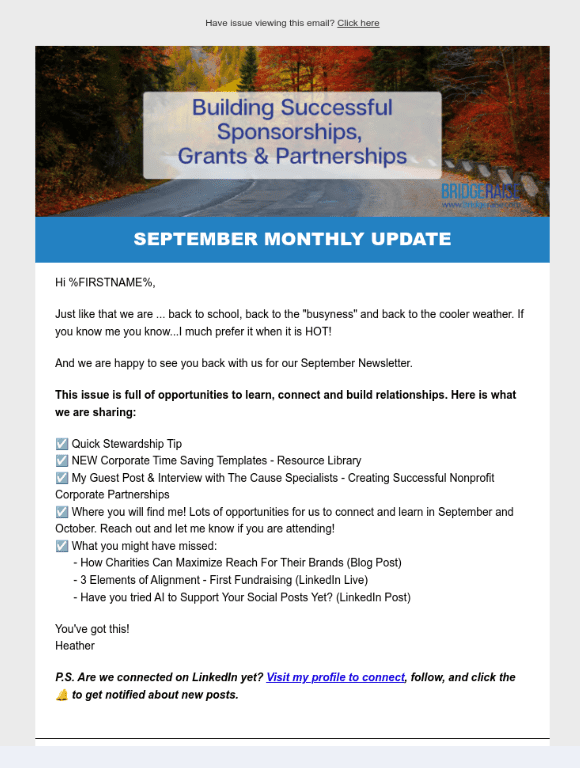 Heather Nelson's expertise is corporate partnerships and supporting charities in creating value-aligned partnerships. This is an area where I have a lot to learn and Heather is one of the best teachers out there. Not just through her enews but her templates and other resources she offers. Wanna up your corp partnership game? Subscribe!
About her enewsletter…
Name of her agency: BridgeRaise
Description: Weekly, Heather will share an enews that is filled with strategies, trends and inspiration for when you want to raise more money from companies. She's also not afraid to share stories of mistakes and the opportunities that emerge from them so we can all learn together.
Frequency of sending: Weekly
Mary Cahalane is not only my favorite Connecticutian (if that's a word) but she's also an awesome expert fundraising copywriter. With a rich background in fundraising, Mary brings her knowledge and decades of experience to her enewsletter. The content she shares are ideas that you can go ahead and implement at the office right away- which is what I like best. Please note: Mary is also a great person to enjoy an ice cream sundae with!
About her enewsletter…
Name: Hands-On Fundraising
Description: Fundraising advice delivered fresh to your inbox.
Frequency of sending: 2-4 times per month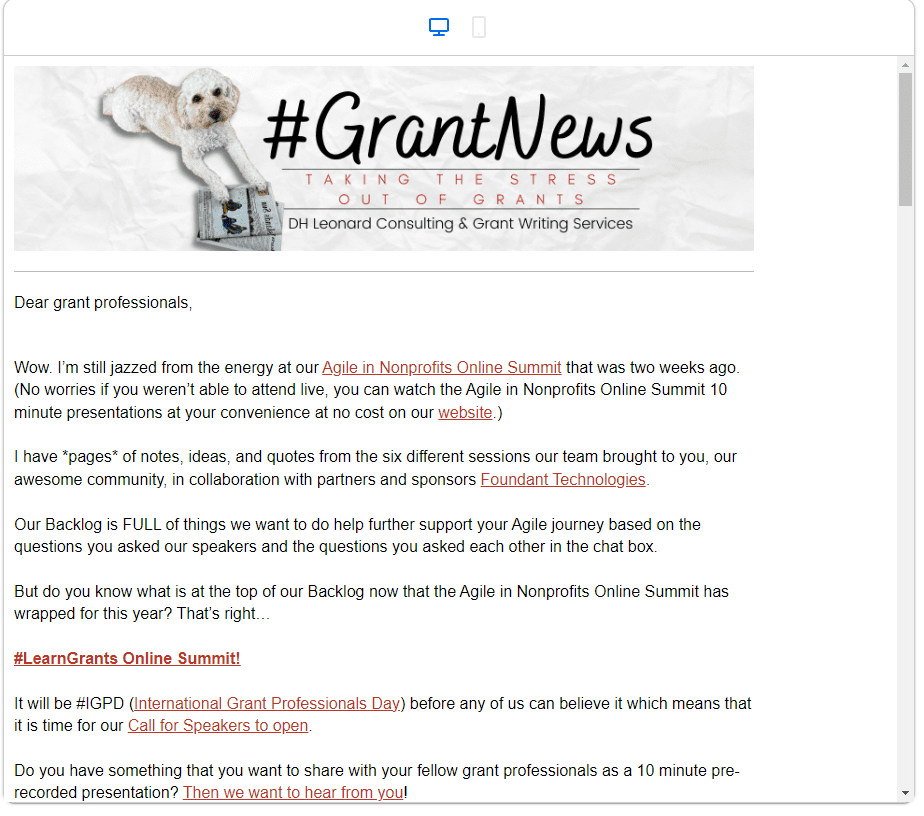 Diane Leonard is a grants expert. Top grants expert. An experienced, knowledgeable grants expert. With years of successful grant submissions under her belt, Diane knows a thing or three about what it takes to have your grant application approved. Your job? Learn from the tips and resources she shares in her enews so your grants program gets a major boost.
About her enewsletter…
Name: #GrantNews
Description: In our biweekly enewsletter we share letters from our team, grant tips, grant lifecycle related resources (both free and paid) and upcoming professional development opportunities.
Frequency of send: Biweekly
Dan Hanley is one of my favorite fundraising consultants. It's not just the experience and smarts he brings to the table. It's the joy he has in helping others which is literally the mission of his life and he wants his audience to feel the joy of philanthropy- whether you're asking or giving. Dan not only helps organizations with their fundraising but he also volunteers to help numerous charities. He talks the talk and walks the walk. Bigtime.
About his enewsletter…
Name: Dan's Tips
Description: My weekly blog brings a fundraising tip or fundraising experience to the reader. I include tips with actions that can be done in an instant all the way to ones that become part of your fundraising culture. I write for those, like me, who are always learning.
Frequency of sending: Every Monday
Kelly Morris is a digital strategist. Which means she understands how to use social media, website and more to boost your fundraising and marketing efforts. I really enjoy her enewsletter because she takes a deep dive into a specific issue and helps you learn all about it. Kelly will help you build your online engagement so you can convert more of your audience into donors.
About her enewsletter…
Name: Social Profit Stack
Description: Your Nonprofit's Online Generosity Begins Here. Every two weeks, Kelly sparks your digital fundraising strategy to elevate your donor's online experience. You'll learn (and implement) the best digital tools to create growth and engagement.
Frequency of send: Every two weeks on Sunday
Who Else Ya Got?
Those are eight nonprofit consultant enewsletters I recommend you subscribe to. You'll learn from all of them and expand your sector knowledge.
Are there any other consultants who publish enewsletters I should know about? Email me and lemme know!
P.S. Here, try one of mine! Boost your email fundraising and marketing efforts, in 5 minutes a week, for free!