"Here comes the 1-2 pitch. Red Sox win the World Series! And the best team in baseball wins it all in 2018."
Good times for Red Sox Nation everywhere! Here in Israel, I watched the game while Skyping with my sons. It was the next best thing to watching- and cheering loudly- together.
Ten minutes after the game and here came the request: We need championship swag! Of course, as a good father who raised them as Bosox fans, I had no choice but to oblige. Tshirt and hat prices are pretty high but you do what you have to when your kids happiness is involved.
Just What I Was Looking For
I always wait a few days after a championship victory to start searching. That's when the "cooler" swag appears online. But this time, I didn't have to search Amazon or Barstool or the Red Sox website store. The swag came to me.
Browsing through my Facebook feed, I came across this ad: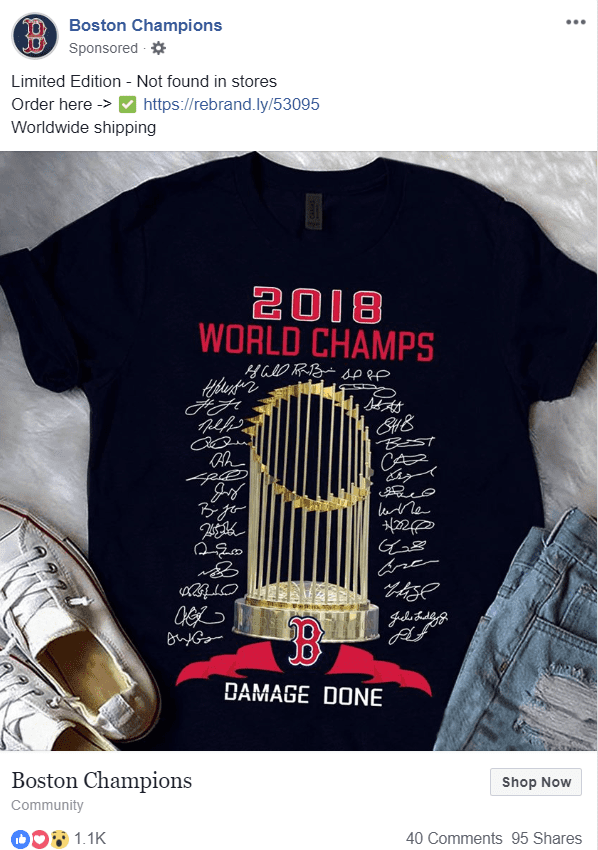 Perfect targeting. Facebook already knew I was a Red Sox fan- I liked the Red Sox page and I may have posted about them in the past a few (hundred) times. Now that Boston won, this brand was targeting Bosox fans with championship swag. They got me.
I clicked the ad, looked over the shirt and quickly messaged the kids to see if this was the shirt they wanted. Affirmative all around. Free shipping included. Sold!
Targeting Works If…
We are bombarded with ads wherever we go online. Facebook and Instagram ads, promoted posts on Twitter and LinkedIn. Just about every website we visit.
The problem is that fewer and fewer people are bothering to click the ads: The average Click Thru Rate (CTR) for display ads is just 0.35%. This doesn't mean it's impossible to reach an audience of potential buyers but it does make an advertiser's job more difficult.
This is why when creating ads, knowing in advance the
Who (target audience)

What (they're interested in)

Where (they will see the ad)

When (to feed it to the audience)

Which (platform)
is critical.
When everything goes right, it works. Just ask my boys.