If you checked Twitter late Saturday night and early Sunday morning, you might have been wondering why 'Zamboni' was trending. It was because of David Ayres, the first EBUG to record an NHL victory.
Wait, you don't know what an EBUG is? Let me give you a quick lesson about my favorite sport: Hockey.
Always Have A Plan C
Every hockey team takes to the ice with a center, 2 forwards, 2 defenseman and a goalie. The goalie has one of the hardest jobs in professional sports: Stop a small rubber puck being shot at 90-100 MPH from going in the net. And don't give up rebounds. And be able to see the puck while being screened by 6'3" behemoths in front of the net.
Every NHL team carries 2 goalies. Always have a backup in case the starting goalie gets injured or has a bad night and needs to be yanked. But what happens if both the starting and backup goalies are injured and can't play? The NHL has a contingency plan: the EBUG, emergency backup goalie.
At every NHL game, a person sits in the stadium offices and can be called upon in an emergency to play. In 2018, Scott Foster, an accountant who also played goalie in a local beer-rec league, gained fame as he was inserted for the last 14 minutes of a Chicago Blackhawks game. And yes, Scott Foster has his own Wikipedia page!
From Zamboni Driver To The Record Books
Saturday night, in a nationally televised game on Hockey Night in Canada, David Ayres was the EBUG as he watched his beloved Toronto Maple Leafs host the Carolina Hurricanes. The Canes starting goalie was out with an injury. Halfway through the second period, their backup goalie was injured in a collision. Enter the 42 year old Ayres: An arena manager, Zamboni driver and goalie for a local hockey team.
Ayres gave up 2 goals on the first 2 shots he faced. But then he settled in and stopped all 10 remaining shots. The Canes won the game 6-3 and Ayres entered the official NHL record books as the first EBUG to win an NHL game. Amazing!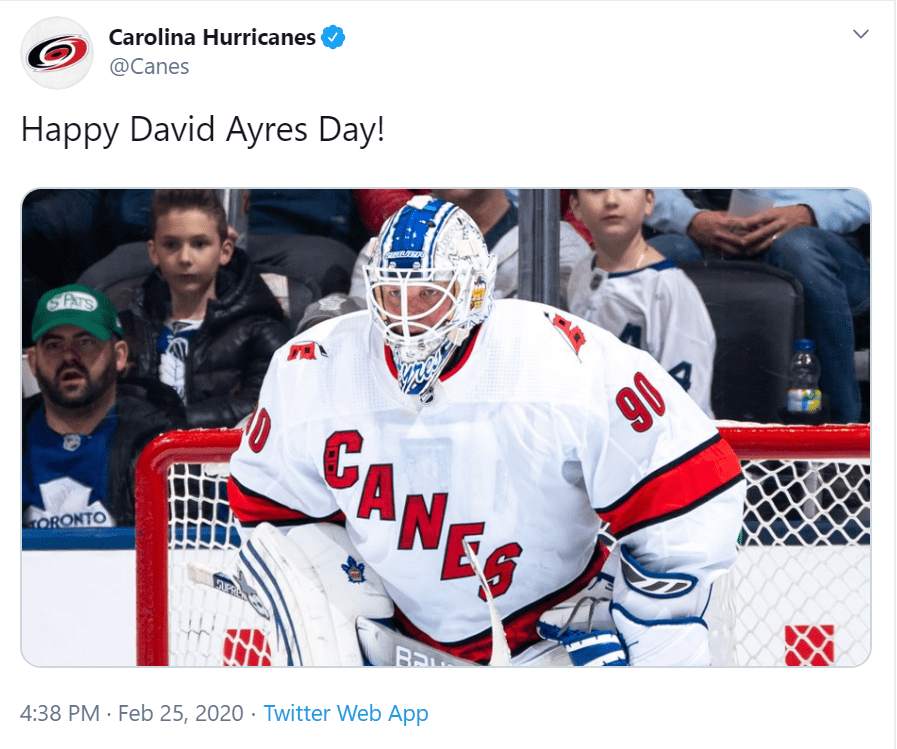 EVERYONE online picked up the story. The NHL posted about it everywhere. The Associated Press and Time published articles. Appearances on the Today Show and Stephen Colbert's Late Show. Ayres was celebrated for being able to live the dream: A hockey lifer being able to play in an NHL game.
And his wife? She couldn't get enough of it.
I am the happiest, proudest woman on the planet because my human got to live out his ultimate dream.
…I'm also surprised I still have a voice. https://t.co/qTglhZypG5

— 🇨🇦Sarah Ayres🇨🇦 (@35Ayres) February 23, 2020
Digital Listening
As word spread, it very quickly came to light that Ayres was a kidney transplant recipient (from his mom!) in 2004. At the time, he thought he might never play hockey again. 16 years later and Ayres is the winning goalie in his NHL debut.
Which got me thinking: Were nonprofits who deal with kidney disease "listening" to this story? When I first look online in the morning, I always check Twitter Trending, to see what's been going on in the world. Some trending topics are self-explanatory. But when I saw "Zamboni" trending, my curiosity was piqued. (And not just because my bucket list includes driving a Zamboni!) During the day I look at trending once or twice more.
In the world of marketing and communications, you always want to be up to date on the latest and greatest.
I agree that the EBUG story took place over the weekend and digital marketers shouldn't be required to work when they're OOO. Whether good or bad, most people I know who manage digital accounts check Twitter a couple of times over the weekend to make sure they don't miss anything "big."
I looked at two organizations: The National Kidney Foundation (NKF) and the Kidney Foundation of Canada. I wanted to see if they had been paying attention and whether they'd make mention of the Ayres story over the weekend.
Variation In The Feed
The NKF did tweet out about it on Sunday and so did their CEO.
Congratulations to Dave Ayres for leading the Carolina Hurricanes (@Canes) to victory! Dave, a zamboni driver who received a #kidneytransplant from his mother, didn't hesitate to jump in as an emergency goalie when asked. https://t.co/BI6SKKDWMc

— Kevin Longino (@CEOatNKF) February 24, 2020
The Kidney Foundation of Canada? Radio silence since Saturday night on the story. Is that a negative, a bad thing? Nope. But the fact is that we should always be listening and searching for content to post. People don't want to follow accounts that consistently broadcast about themselves. Variety is the spice of your online feed.
Here was an opportunity to share a feel good story which "back-doors" the organization's mission. (The NKF used the #KidneyTransplant hashtag in their tweet). So I would've expected that on Monday, when everyone was back in the office, the Kidney Foundation of Canada would have tweeted something. Nothing. No tweet, no post on Facebook.
I am hoping that each organization is trying to contact David in order to share his story with their followers and possibly see if he'll help them advocate for organ donations.
A Perfect Ending
In the end, the Carolina Hurricanes took very quick advantage of the story and are making sure that part of the proceeds go to a nonprofit whose work is dedicated to kidney disease.
The legend grows

Ayres shirts are available online and in-store, and a portion of proceeds will benefit the @nkf!

Shop » https://t.co/zkX2QD10sk

Donate » https://t.co/NNZfOZCJ4m pic.twitter.com/TUcFse5XYK

— Carolina Hurricanes (@Canes) February 25, 2020
I love these types of stories. Ordinary people thrown into the limelight and succeeding. And yes, as a Boston Bruins fan, I was extremely happy that this happened against the Toronto Maple Leafs 😊
Always be listening. There are content opportunities waiting there for you.
Does your organization need a fresh set of eyes to analyze your current marketing strategy? Let us help! We'll provide a spark for your social media presence, check-up on your communications and give your website a big boost. This is the marketing kickstart your organization needs!
Hey nonprofit pro! I publish an e-newsletter Monday-Thursday which delivers content to your Inbox that's relevant for any nonprofit role you fill. Expand horizons with one click. Subscribe today!