For six straight years lunch was always the same: A fluffernutter.
If you don't know what that is, then I feel bad for you because it's the yummiest sandwich. It's peanut butter and marshmallow fluff on bread.
As an adult, because I'm supposed to eat "healthy," I rarely have one. But when I do….two slices of heaven.
Parents Have It Tough
Why did my mom prepare a fluffernutter for me every day from grades 1-6? She did her research! She knew I was a picky eater and she wanted to make sure I ate food while at school. The only way that would happen was to make me my favorite sandwich every single day.
Don't think for even a second that my mom was happy about my lunch choice. Far from it. She wanted me to be eating healthier sandwiches but her desire to see her eldest actually eat something every day and not come home starving outweighed any health implications of my daily fluffernutter addiction.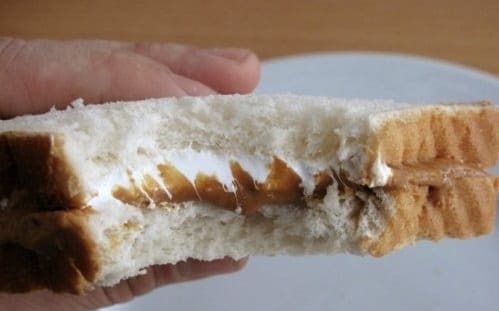 To balance it out she gave me a box of Sunmaid raisins to snack on. Those were goooooood. Wonder if they still make those snack-pack size boxes.
Fast forward about thirty years. Every day I had to prepare two meals for my kids before they went to school: brunch which they ate at 9:30am and lunch. Kids being kids, they didn't always like what I packed for them, leading to the inevitable "I hate that" or "my friends have chips & Coke every day!" (That's because their parents let them make their own lunches! But I digress…)
If you're a parent, chances are you're nodding. You've been there.
At one point I decided to reduce the amount of complaining. I reviewed what was coming back home and what actually got eaten. I asked the kids to write down what foods they like and what they don't like. Then we sat down and made a menu so that I'd know in advance what to pack each day.
Does that mean they went off to school happy each day? Of course not- it's school! But at least in the packed food department, complaints were down drastically.
Make A Plan
When I work with clients crafting a marketing and fundraising strategy, I take the same 3-step approach I took with my kids.
Research: I look at past campaigns to see what has worked and what hasn't. The available data and interviews with main stakeholders help paint a picture of where things stand right now.

Strategy: Come up with a plan! Know your target audience, figure out which content to engage them with and on what platforms, what campaigns/events you'll run and how your organization will hit its targets.

Implement: Get out there and start eating…I mean engaging and raising money!
I know it's not that simple. But a lot of times rushing in to something with no research or strategy can have disastrous results for your organization. Better to plan.
Otherwise you'll be left with a lot of uneaten food. And a disappointed audience.
P.S. I once told my friend Beth Ann Locke about my research and strategic plan for the kids lunches. Her response? "Do they do any acknowledgements of some kind?"
Once a fundraiser, always a fundraiser!
Year-end fundraising campaign time approaches. Is your website content prepared? Email marketing strategy ready to be implemented? Social media posts planned out? If your nonprofit wants to strengthen relationships with donors and raise more money, then your website, email and social media need to be in sync and ready to go when your campaign commences. 
Not sure how to pull it all together? Contact me and let's plan a successful year-end campaign together!