(Here's part one and part three of my 2022 Giving Tuesday email fundraising and marketing analysis)
It turns out that I received 271 Giving Tuesday (GT) emails, not 270 as I mentioned last week. That's because I received an email last Thursday from an organization, NINE DAYS after GT. I'll have more about that email in next week's post.
This week I'm looking at how often you should ask for money, email subject lines, matching gifts, video, who emails come from and more.
Let's dive in and learn some fundraising and marketing lessons from GT emails.
Number 1: Overkill with an ask
"You can never ask enough."
That's a true fundraising best practice. Some of you reading this have a boss who doesn't want to send 4 direct mail asks a year because it's too much. Donors will get tired of all the asks.
That's not what the data shows. People don't open every letter you send. They don't read every email in their Inbox. They scroll past many of your social media posts.
I do get asked in regards to email: How often should we ask? My answer is you can't ask enough. Well, with one caveat…
Friends of the Earth emailed me SIXTEEN times on GT with an ask. In a 16-hour period.
That's overkill.
But if that's not enough, they also emailed me six times the day before GT and five times the day after.
27 emails with an ask in a bit less than 60 hours. That included sending two emails within 61 minutes of each other.
As Ron Sellers said: "Hitting unsubscribe is such an easy thing to do; why give someone motivation to do it?"
To make things worse, the Wednesday emails from Friends of the Earth told me they had come up short of their $550,000 goal. To which I say: None of your donors care! (See takeaway 7 in last week's post.)
So yes, that specific organization did go overboard with their asks.
I asked a fellow fundraiser- who's a Millennial- what she thought about this issue. Her response: "Is nine times in one day too much? Probably. Then again, I don't open all my emails. It could be that on the ninth try I open and donate."
This is one of those cases where you need to know your audience. Test your asks and see at what point your CTR is drastically reduced.
If you're going to ask often, use a variety of content in your emails. Storytelling. Impact. Program info. Video.
When everything is an ask, over and over and over ad nauseum again, subscribers will stop opening your emails.
Takeaway: Yes, you can ask more than once. But keep in mind that at some point, subscribers may tune out your messaging.
Email works best when subscribers feel like you're bringing value to this one-to-one communication platform. Don't abuse it.
One thing I did like:

Planned Parenthood included this P.S. at the bottom of their first GT email. It's great! It shows they understand their subscribers will be inundated with GT and end-of-year emails. This type of understanding helps connect an organization to subscribers.
When a subscriber thinks "They get me!" that helps build the connection.
Number 2: If the subject line sucks…
35% of people decide whether to open an email based on the subject line alone.
Read that again: 1/3 of your subscribers are opening your emails based on the subject line. That means your subject lines have to shine! Get creative. Use humor. Ask questions. Create curiosity.
The subject lines for the GT emails? 👎👎👎
35% of them included the words "Giving Tuesday" in the subject line. Guess what? Almost all of your subscribers know what the day was. They don't need the constant reminder.
Or this subject line "winner" from Action Against Hunger: [Image attached]
Not great Bob.
"Your donation status: pending"
"Take an afternoon break to donate on Giving Tuesday"
"Help me meet my Giving Tuesday goal"
"The best time to give is now"
"I'm asking you urgently. Give by midnight"
"We're SO close. Give now"
In takeaway one of last week's post I talked about the cash grab. The overwhelming majority of GT email subject lines were about donating. And as I mentioned above, when you ask over and over and over again, people will tune you out.
Takeaway: Work at creating a fantastic subject line. People's inboxes are overflowing. Wanna stand out? Your subject line is the difference between open and delete.
I suggest crafting 3-5 different subject lines and then making a final decision before sending.
Even better, A/B test two different subject lines and see which one leads to a higher CTR.
Number 3: Do matching gifts work?
A few years ago I asked online why it seemed like every nonprofit was offering a matching gift on Giving Tuesday and end-of-year. Sector experts told me that organizations hold them for just these types of days and situations, in order to increase giving.
71.7% of the nonprofits who emailed me about GT had a matching offer. Covenant House had a 5x match. Americares 8x. Make-a-Wish? 10x.
One that stood out to me was Population Services International. The email, sent two days prior to GT, was from their Board Chair who announced that she will match all donations up to $30,000. Love the Board Chair stepping up to do that!
Some of the emails, such as the one below from Midwest Food Bank, showed how the match would work.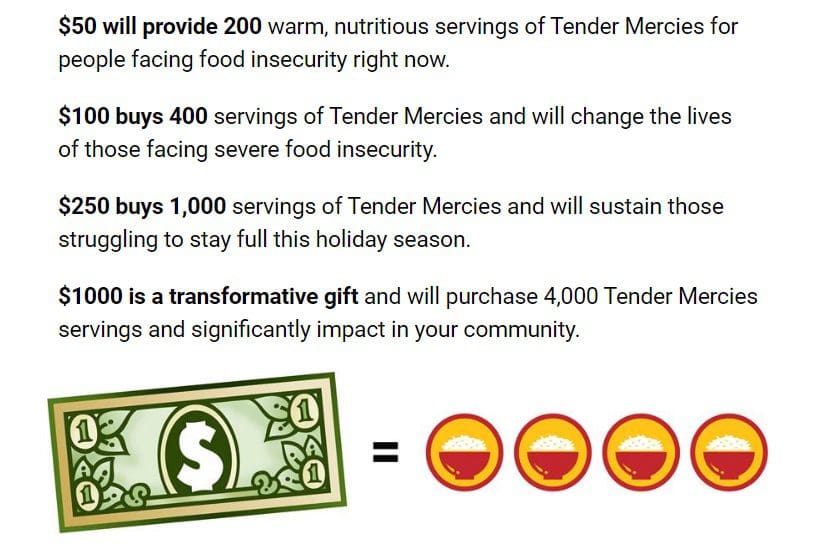 Or this one from Golden Gates Conservancy: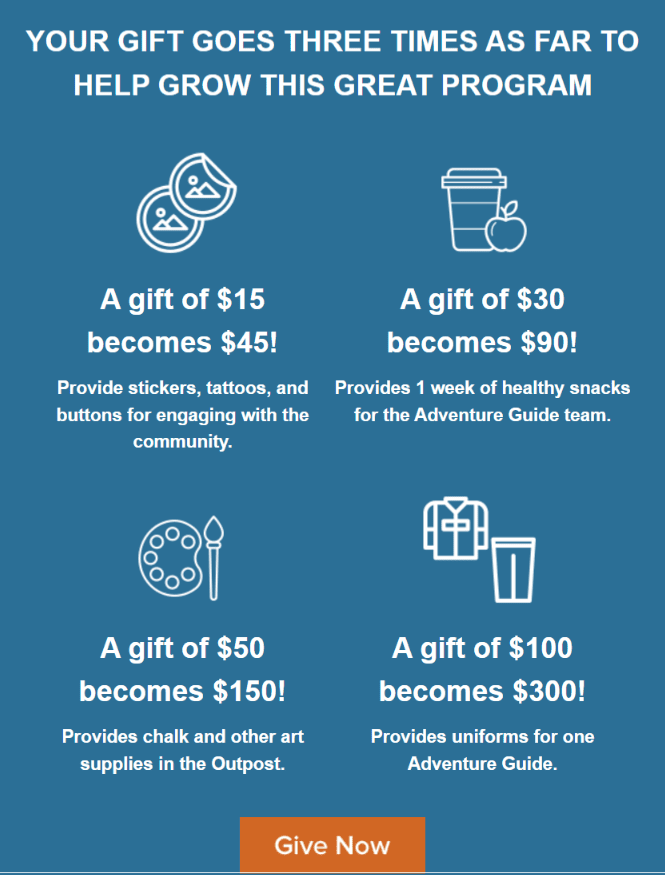 The goal? Show readers how far their donation will go.
Oftentimes the matching gift was the main focus of the email. The Unique Selling Point (USP). Not the work, not the impact, not the people. The chance to get the match became central to the campaign.
Is that a bad thing? Not necessarily. Matching gifts work!
Should it be the only focus? Nope.
As you can see in the images above, some of the organizations showed how the matching worked: Donating $25 = $50 of whatever. But does that work? Check this experiment out.
For more, check out these two experiments (here and here) on how matching gifts positively affect donor conversion rates.
Takeaway: Matching gifts work. Have one for a fundraising campaign? Get the word out to your supporters about it.
Number 4: The Who matters. No, not the band
This one drives me nuts.
Email is a one-to-one communication between your organization and in individual subscriber. Which means the from and reply to email addresses should be from a person.
Only 11 out of 271 emails came from a person. A paltry 4.1 percent.
The rest? Check out this "all star" lineup of from and reply to addresses: Info. Code. Friends. Give. Press. Contact. Updates. Donate. Team.
When you send an email from a generic email address- info@orgX.org- you've lost an opportunity to connect with the subscriber. They don't feel the love. They feel as if they're just another email address on your subscriber list.
Kudos to FRAXA, Alex's Lemonade Stand Foundation, JDC and Midwest Food Bank which listed a person's email address. Allows me to know it came from a person and the reply will go directly to that person's Inbox.
In every episode of The Weekly SEND I look at the from and reply to email address. Sadly, only one of 21 emails I've reviewed so far had the name of a person. Sigh.
Takeaway: Every email you send should come from a personal email address and same for the reply address. Your goal is to build a relationship with each subscriber. That starts with the email address.
Example: The reply address on the GT email I received from Children's Day Preschool? sdannemiller@cdnfc.com. She's the executive director. That's how it should be done!
Number 5: Less we, more you
When I work with clients to craft their fundraising and marketing messages- whether on their website, email, direct mail, social media, campaigns- I make sure the focus should be on the work the DONOR is doing to solve a problem in your community. To make the world a better place.
As fundraising expert and coach Beth Ann Locke says: "Don't put any space between the donor and the beneficiary."
This means focusing on you the donor and less we, the organization. That's what should come through in your emails.
Sadly, almost all the emails I received were organization centric. Here's what we do and are doing. Here's more about us. We're busy dealing with the situation on the ground etc. etc. etc.
I'm not saying to ignore the work you're doing. But the goal in your supporter-facing content should be donor centric. More you, less we.
As direct mail expert John Lepp says in his book, Creative Deviations: "You is the most powerful (and warmest) word in fundraising."
Takeaway: What John said.
Number 6: Video doesn't kill the email star
We watch at least 84 minutes of video per day (and I bet that number has risen since corona). That does not include streaming TV.
Think of all the videos you watched today on YouTube, TikTok, Instagram, Facebook, Twitter and elsewhere. It's a lot.
But there's a reason why we're glued to our phone, tablets and laptops watching video: Video captivates us. It tells us stories while at the same time allowing us to watch the scenery and hear the dialogue.
For nonprofits, video is an EXCELLENT medium for telling your story, connecting and engaging with supporters and your target audience.
Email is one of the ways to showcase videos to subscribers. Add a great thumbnail, call-to-action and people will be clicking thru to watch your videos.
So I assumed that video would play a pivotal role in Giving Tuesday campaigns. Wanna show the need? Have donors learn more about beneficiaries? See the impact you, the donor, is having? Inspire people to donate? Let's roll the tape!
Or not.
Only six emails contained a link to a video.
MAP International shared a link to a video the day prior to GT but not on GT. Midwest Food Bank, Westminster Neighborhood Services, Rosie's Place and Children's Day Preschool shared a video on GT.
After GT? Only one used video to show gratitude to all their supporters. More on that next week.
Video is an excellent medium to motivate people to take action. Why didn't more organizations use it? I don't know. Huge missed opportunity.
Takeaway: Video MUST be part of any fundraising and marketing campaign your charity undertakes. Explain the problem visually. Allow people to learn more and be encouraged to take action.
And for those of you with a limited budget: Not every video needs to be a Spielberg production. Take out your phone, record and upload.
Number 7: The online donation form should match the email
This was a mixed bag. 22 organizations listed suggested giving amounts in their GT emails.
But when you clicked through to the online donation form, only 50% of the forms listed the same amounts as in the email.
Why is that a problem? Consistency and confusion.
If you asked for something in the email, make sure it shows up on the donation form!
A subscriber read your content. They may have chosen an amount to give based on what was listed in the email (e.g. A donation of $25 will feed 6 families for a week). Now they come to the form ready to donate that amount and… it's not listed.
You've caused some confusion. You've made the donor pause the giving process. And that can mean fewer donations.
Have a look at what Houston Food Bank included in their email. You see what each donation amount can provide: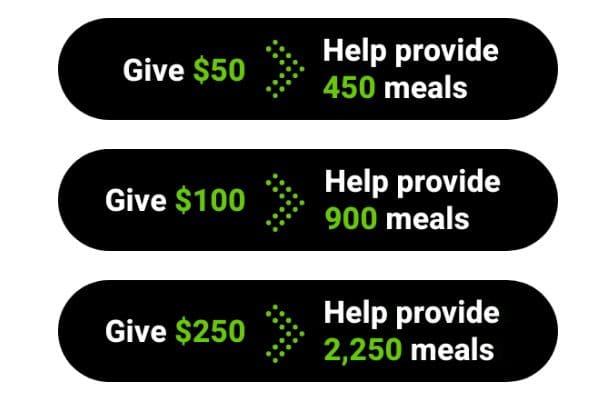 When you go to their online donation form, they show you the same amounts PLUS what will be provided. Perfect!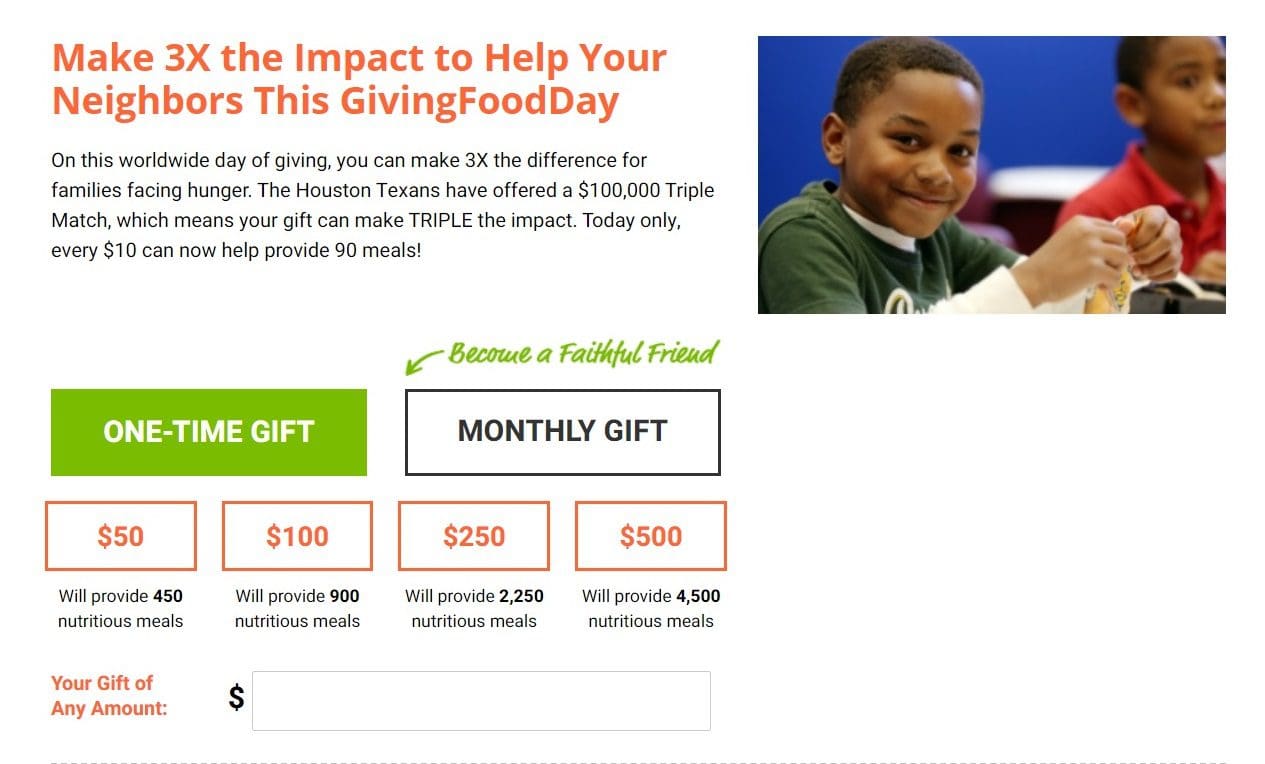 Covenant House had a 5x match and they let subscribers know about it in their email: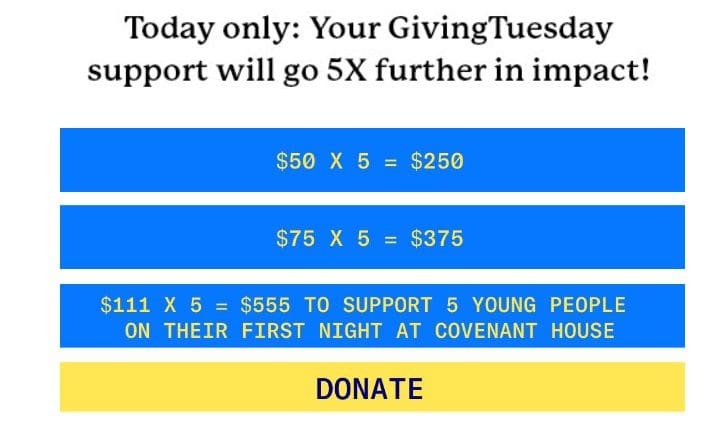 However, the online donation form? No mention of any of the three amounts listed in the email.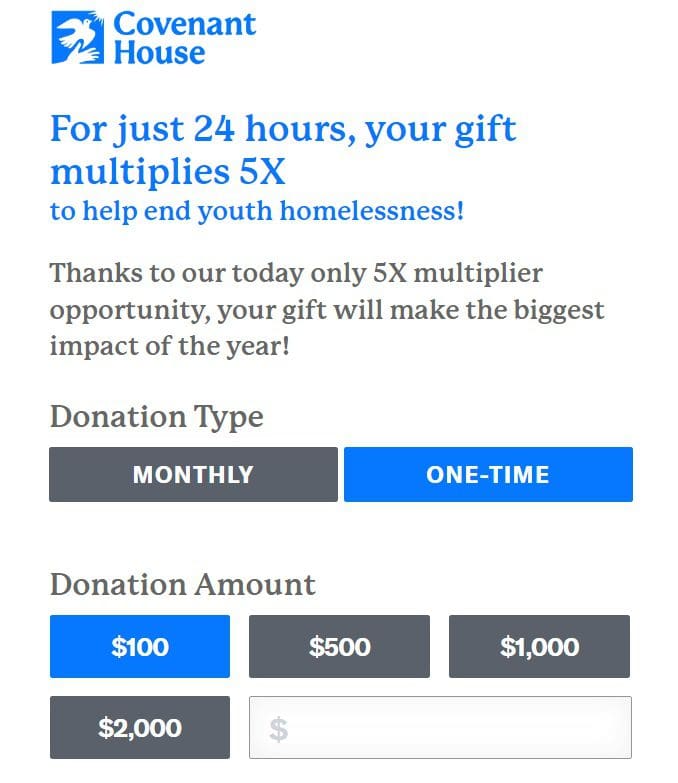 Consistency will help you raise more from more donors.
And if you do mention in your email a matching gift, don't forget to mention the match on the donation form. Highlight it. Remind donors how far their donation will actually go.
Takeaway: Make sure suggested amounts in your emails match what's offered on your online donation form.
Additional tip: I think it's a good idea to show and highlight suggested giving amounts in your emails. However, when doing so, make sure subscribers don't have to search for it.
MAP International composed a GT email which mentioned a suggested giving amount only in the P.S. "A gift of $30 could provide lifesaving antibiotics for 10 children who would otherwise go without, but every dollar counts in the race to get medicine to those who need them most."
I'm well aware that a P.S. in a fundraising letter will get read. But I think that mentioning the $30 amount in the body of the email- and then again in the P.S.- would've helped MAP receive more donations of that specific amount.
Next week I'll share with you more takeaways about gratitude, countdown clocks, storytelling, personalization, explaining the need and more.