This post is a guest post written by nonprofit content expert Tatiana Morand of Wild Apricot.
Has your nonprofit looked into SEO, or search engine optimization, for your website? 
If the answer is no, don't feel bad. The letters SEO can send shivers down a nonprofit marketer's spine… but they don't have to! 
Search engine optimization does not need to be difficult or complicated. Good SEO tactics are ongoing marketing habits that you should be (or maybe already are) employing anyway.
In this post, we're taking a deep dive into what SEO is, why you should invest in SEO tactics for your nonprofit and what the top SEO methods are. 
What Is SEO?
So what exactly is SEO? Search engine optimization is the work you do to ensure your website comes up in search engines like Google, Yahoo and Bing. 
Let's say your nonprofit provides free art classes to local students. Your nonprofit has the perfect program for this parent, so when they search for "free afterschool activities near me," you want to be one of the first websites listed in the results. 
Search engines are sophisticated sites that intend to recommend the very best content to its users. When it all comes down to it, SEO lets these search engines know that your website is credible, relevant and high-quality. 
How SEO Can Help Your Nonprofit
Nonprofits solve big problems — and when someone uses a search engine, they're looking for a new solution to their problem. 
The problem may be where to order dinner that night, but it may also be a need for cancer resources, pregnancy support, rescue adoption, or meaningful volunteer opportunities. If you provide a solution to these problems, it's worth putting in the work to ensure your nonprofit comes up at the top of the search engine results to help enable you to gain new clients, participants, members, partners, volunteers and life-long donors.
Here are a few ways you can up your SEO game.
Focus on Quality Content
The most tried and true SEO tactic is creating high-quality content. Good content signals to search engines that your website is valuable to its users.
When you create website pages and blog posts, take the time to make sure it checks these five things from this Quality Content Checklist:
Titles, including headings and meta titles, are relevant to the page content and include well-researched keywords.

Links, both internally and internally, are accurate, credible and logical.

The copy is grammatically correct, easy to read and above all, solves a problem for readers. 

Multimedia is used, including high-quality images, video and sound.

Up-to-date. Refresh your pages and blog posts frequently, which tells Google that your content is fresh and accurate. 
Prioritize Website User Experience 
Google wants to recommend users to websites that have a stellar user experience, including navigation and design. When's the last time you did a quality check of your website? Use this handy Quality Website Checklist:
Navigation is user-friendly by logically organizing your navigation, using clear titles and not crowded with too many options. 

Page speed is fast. Boost page speed by cleaning up the amount of content per page, removing content no longer in use and reducing the size of content at the top of your pages.

Compelling media — this is the chance to pull out those great images you've taken at your events! 

It's easy to fill out any donation or membership forms on your site. 

Mobile-friendly, meaning it's properly formatted if a visitor opens it on their phone or tablet. 

Works on all browsers (yes, even Internet Explorer). 

Website security is tops. Ensure you choose a quality website hosting service and that your donation processing system is safe and secure.
Read More: 15 Nonprofit Website Best Practices You Need to Know in 2021
How Keyword Research Boosts SEO
When you hear people talk about SEO strategies, keywords are one of the first that comes up. This makes sense. Keywords are simply the phrases that people use when using search engines. SEO experts are trying to move away from "keywords" and tend to use terms like "search queries," which is a more accurate term. 
Keyword search is the process of understanding what potential website visitors may search for that will lead them to your site. With this knowledge, you can use these words and phrases to create the most relevant content to lead the right people your way. 
When you have a clear understanding of the problem your nonprofit solves—for both those you serve and for your supporters—you are off to a great start on researching keywords. 
There are several keyword planning tools that will help you further. Here are three options:
Google AdWords Keyword Planner
Google has a widely-used Keyword Planner that is meant to help people create effective Google ads. It provides crucial information, such as search volume, competition and what people pay for the keyword. This tool is free, but doesn't display search volume as specifically as paid tools do. 
Moz Keyword Explorer
Moz has a keyword tool called Keyword Explorer. It will allow you to easily search volume and competition and discover keywords and phrases with high relevance, broadly related topics and keywords in the form of questions. It's a more detailed tool than Keyword Planner, but might get expensive if you're just dipping your toes into SEO. 
Keywords Everywhere 
Keywords Everywhere is a browser add-on for Chrome and Firefox that allows you to see all the keywords and keyword volume associated with any search you make in Google as well as the trends for that keyword over time. Although it is a paid tool, it only costs $1 per search and you can turn it on and off as you like. 
How to Use Keyword Tools
There are two important metrics that keyword tools will give you:
Search volume

Difficulty or competition
The search volume is the average number of searches for your keyword on a monthly basis. You want to choose keywords that have a high search volume.
SEO difficulty or competition indicates how easy or hard it will be to rank for this keyword. The competition for a keyword will depend on how popular the keyword is and the competition for its use. Essentially, you don't want to focus on keywords that are already being used by big brands that have a huge SEO advantage. A lower score means the keyword is easier to rank for, so a low score is what you want to shoot for.
To recap, when researching keywords, you want to focus on those with a combination of a high search volume and a low difficulty or competition score. 
How to Use Keywords
Now that you have well-researched keywords, what do you do with them? 
Let's start with what not to do: keyword stuffing. That means overusing keywords in your webpages and blog posts that detract from the readers' experience. You can't trick Google.
When using keywords, make sure you are writing naturally (like a human). Write meaningful and valuable content tailored to your audience as opposed to writing for the sake of optimizing search rank.  
Do incorporate keywords and key phrases in the first paragraph of your pages and blog posts, in your heading and meta titles and descriptions. 
Meta titles and descriptions are what show up in search results. For example, let's say you search for dog walking tips.
These are the meta titles: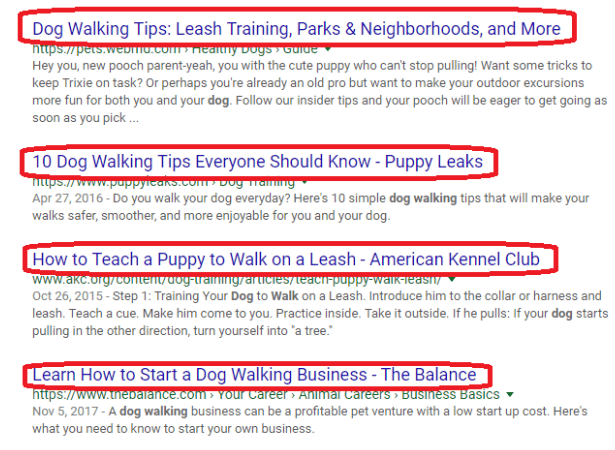 These are the meta descriptions: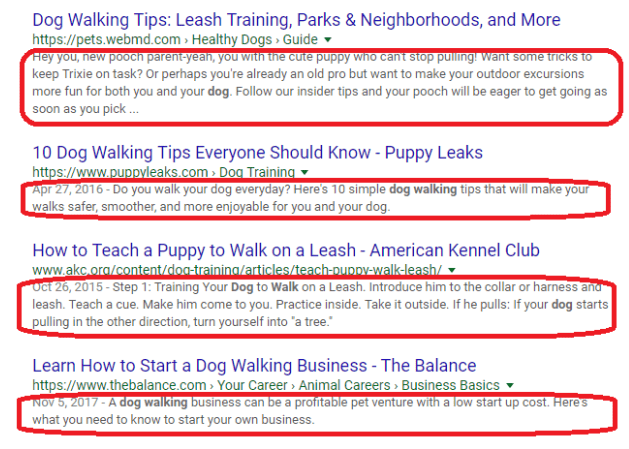 Think of meta titles and descriptions as sales copy for each page of your website. When building your site and publishing blog posts, take the time to customize these based on your keyword research. 
Read more: The Top 8 SEO Tips for Nonprofits Who Want to Rank #1
How Link Building Helps Your Ranking
One way to signal to search engines that your website has quality content is to have credible websites share links to your pages. The process of inviting others to share links from your website is called link-building. 
Link building can be a time-consuming SEO strategy, but a worthwhile one. To effectively build links, you need to build relationships with people and organizations relevant to your industry who will find your content highly valuable for their audiences. 
Try these link building tactics:
Create Really Good Content
Are you sensing a theme here? The better the quality of your website pages and blog posts, the more likely others will be excited to share it with their people.
The kinds of content that are highly engaging and shareable include: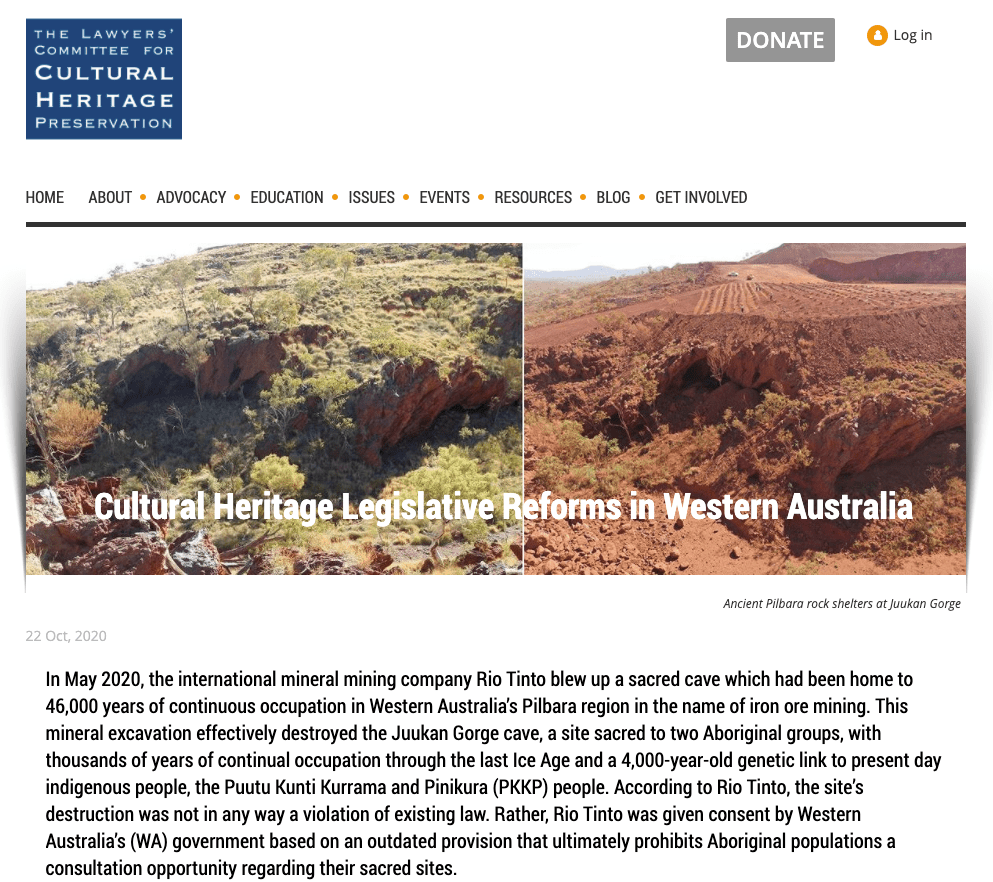 Data and research. Does your organization conduct original research? Consider creating infographics and research reports that will benefit your partners.
Resources and education. You're the expert on your nonprofit's issue. Create content that educates community members. For example, if your nonprofit serves mothers of babies, create valuable posts with parenting tips, such as this post from Fort Worth Mothers of Multiples on easy freezer meals. 
Compelling stories of impact. People love both reading and sharing a good story about lives changed for the good. Share your stories of impact.
      2) Write Guest Blog Posts
Authoring guest blog posts on relevant websites is an excellent opportunity to build links. 
Influencers, journalists, bloggers and other nonprofits in your industry are always looking for high-quality and meaningful content to share with their audience and readers. 
Ensure that the website you are providing guest posts for is willing to let you link to your website in the writer bio. 
     3) Outreach To Like-Minded Website Owners
Take time to identify those who may want to share the content you have on your site. 
No one likes random asks from strangers, such as the one the Wild Apricot site got the other day:

As we talk about topics related to helping nonprofits with their membership, board governance and the like, the likelihood that we would share this kind of post is nil. 
Instead of doing this kind of cold outreach, follow and engage with your potential host sites on social media. Find natural opportunities to share your content with them and explain why you think it will be valuable content for their audience — making sure all the while that you know what kind of content they're putting out. 
     4) Have a Great Digital Presence
Create your own buzz!
Use all of your digital platforms to share your website and tell a cohesive story about your nonprofit. That includes email marketing and all your social media pages and channels.
On that note, make sure all of your digital platforms are optimized and valuable. A great example is the Instagram account of I Support The Girls, a nonprofit who collects bras, underwear and menstrual products for people in need.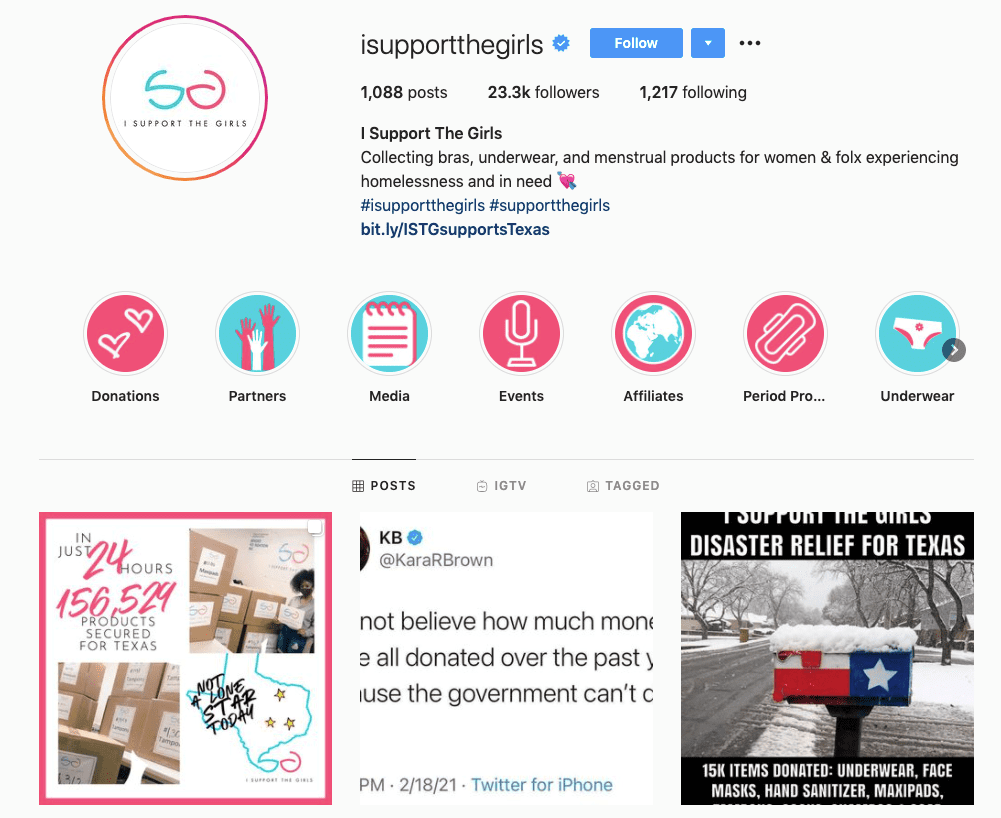 As well as providing a great overview of their mission and vision, they update their supporters on ways they can help with current world issues.
Read More: Follow These 7 Steps to Create a Nonprofit Marketing Plan
The Number One Takeaway
A holistic SEO approach is going to be your best bet to improve your nonprofit's search engine optimization. You want to tell search engines that your site is valuable, credible and deliverable in as many ways as possible. 
Don't forget that the foremost SEO tactic is to create high-quality, helpful content that solves your ideal audience's problem. Do that and search engines and partners alike will be clawing to share your content.
Tatiana Morand is the SEO Manager at Wild Apricot, the leading member management software for small organizations. When she's not creating content to help organizations succeed at marketing, fundraising, and growing their membership, you can find her working on her fantasy novel or exploring Toronto's cafe and brunch scene.