Giving Tuesday is thankfully over and we can move on to the deluge of GIVE US MONEY year end campaign emails which will fill our Inboxes for the next 4 weeks.
I'm not a fan of Giving Tuesday for a whole host of reasons. One of those is the lack of effort nonprofits put into their campaigns. It would seem that because it's Giving Tuesday, nonprofits are convinced that if they tweet/Instagram/post/email and merely mention Giving Tuesday, donations will come pouring in. 🙄
The Larger, The Better?
This year I decided to look at how some of the largest nonprofits in the U.S. were hyping Giving Tuesday. 
My hypothesis: With larger budgets, they should have more to invest in fundraising, marketing and communications. That should lead to more creative and outstanding campaigns, aimed at getting donors to donate big time. 
The results? Less than underwhelming. Here's a look at how 8 large NPOs hyped Giving Tuesday on Instagram and what we can learn about fundraising, storytelling and marketing. At the end, you'll see one good example of how to do Giving Tuesday correctly.
Note: ALL of the below organizations are doing life-saving and life-altering work. I have zero qualms with their mission. But I am taking a critical look at how they talk to donors.
Tell Me A Story!
Storytelling should be through the lens of one. Tug at my heart strings, get me a little farklempt. But just a pic without the back story about the person pictured and how your org helped them…a wasted opportunity.
Here are 3 examples: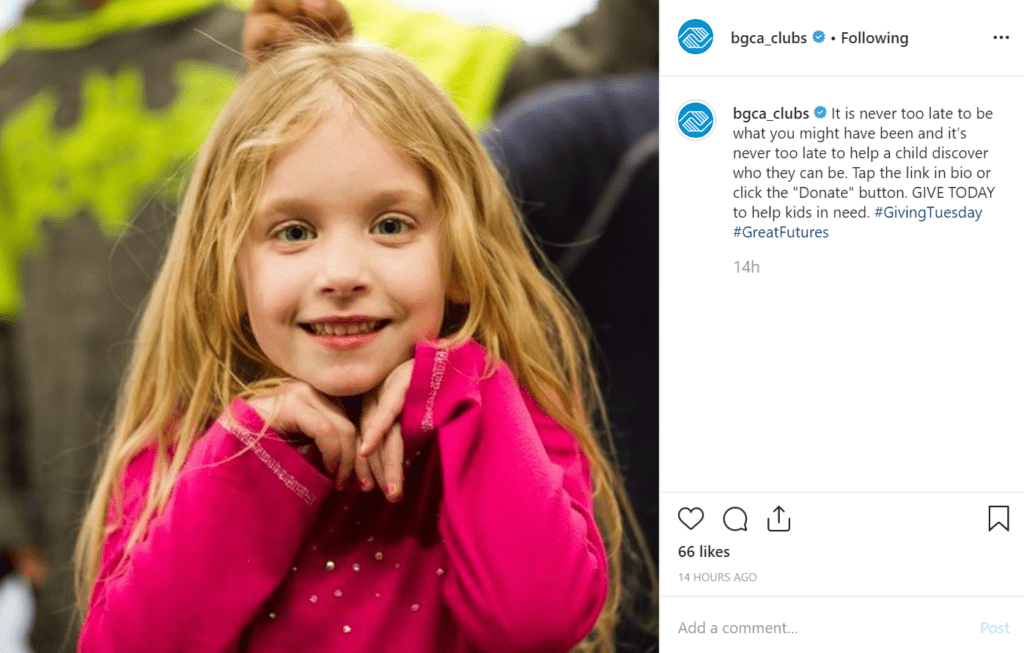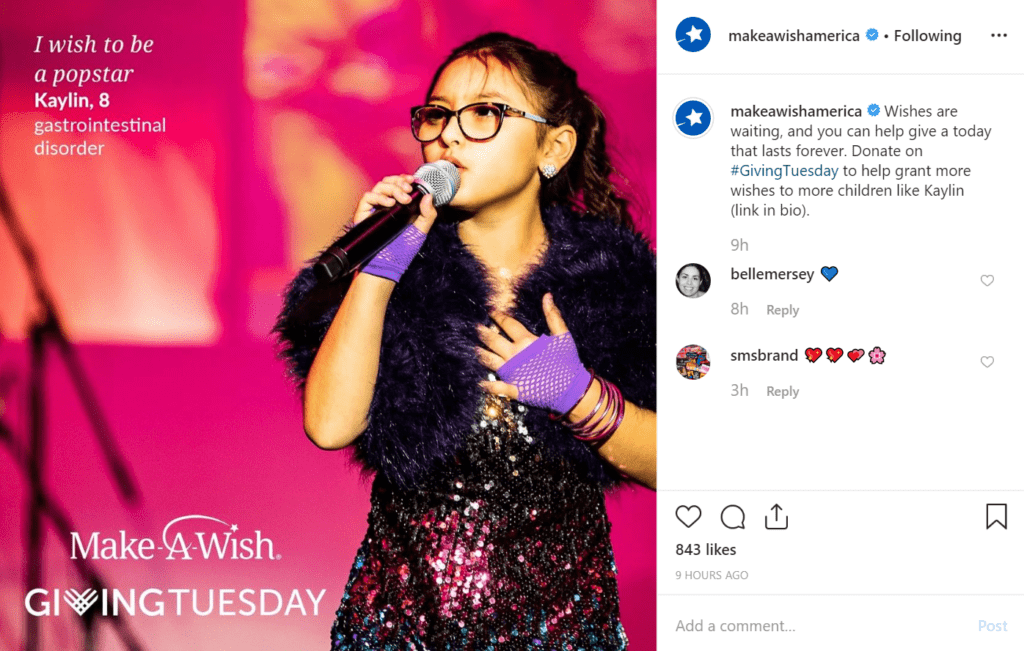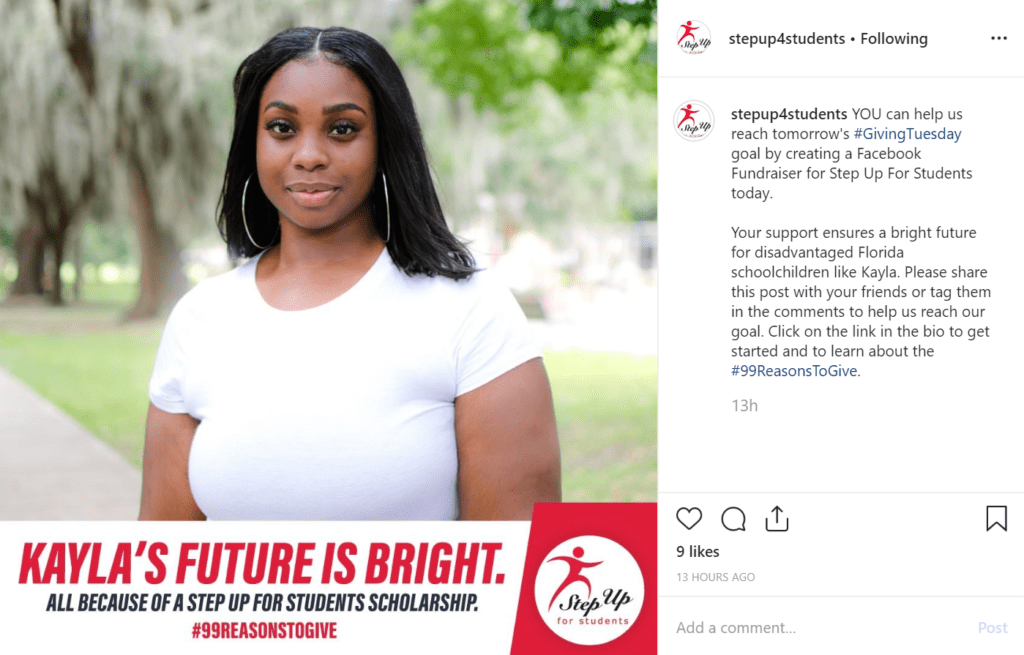 Look at those beautiful faces! As soon as I saw these posts in my Instagram feed I immediately stopped scrolling so I could read and learn more. The pics did their job! The copy? Not so much.
Nothing about who these young people are, nothing about their personal story, nothing about how the various nonprofits helped them. Storytelling should be through the lens of one but you've got to tell me a story! 
The copy was pretty dry and stale. Almost looks like they put no thought into the words. Just gimme gimme gimme. That's not gonna work with donors.
Stunning Pics…And Nothing More
A picture may be worth a thousand words but I still need to know more. Tell me more about your mission. Tell me HOW my donation will be used.
Or you could just do this…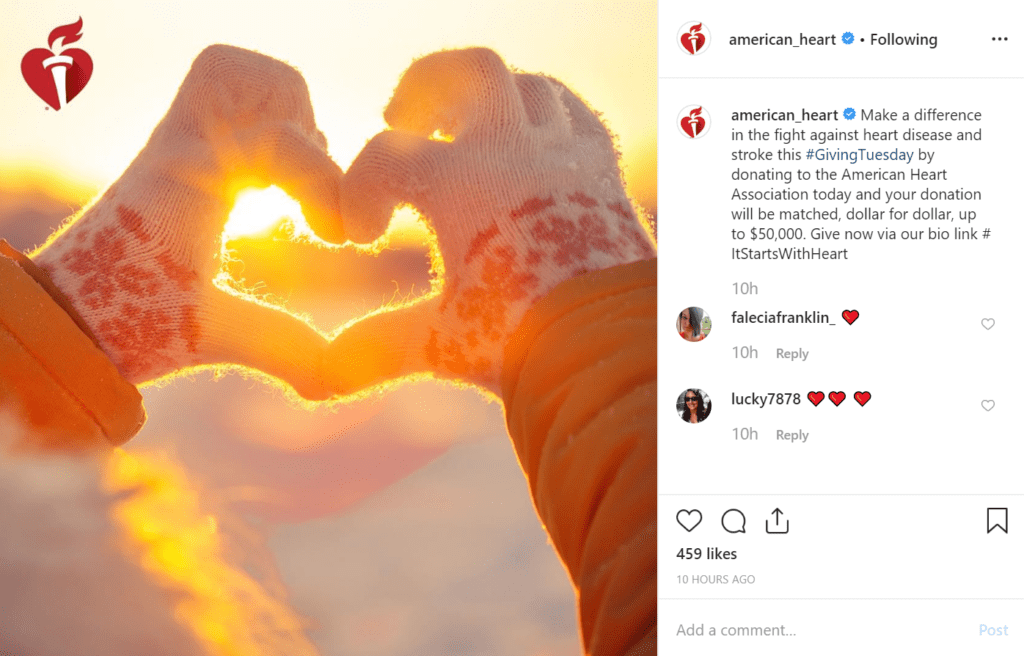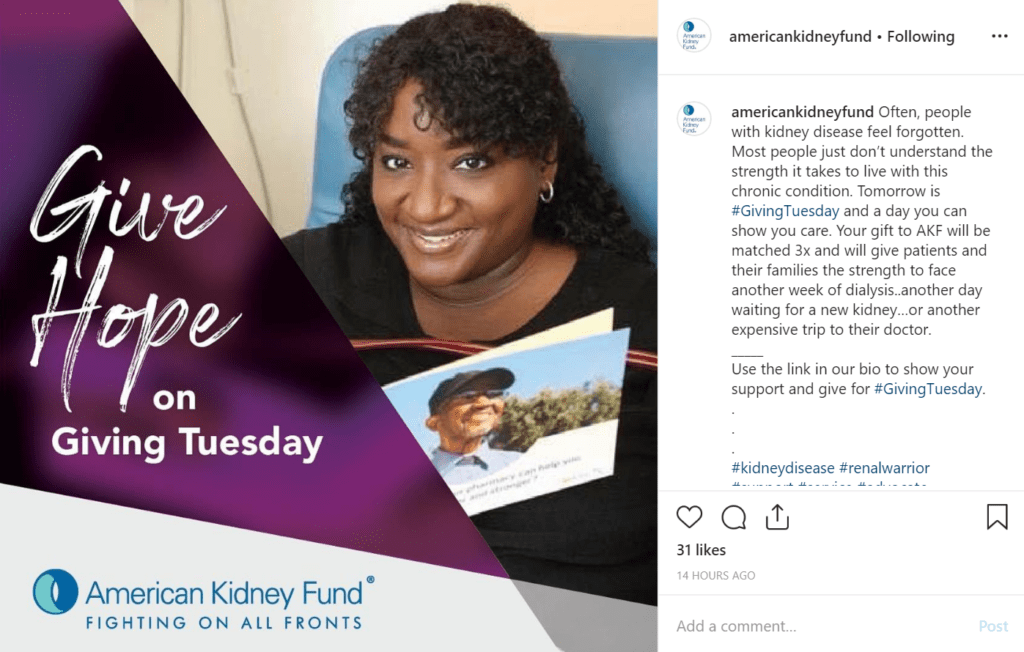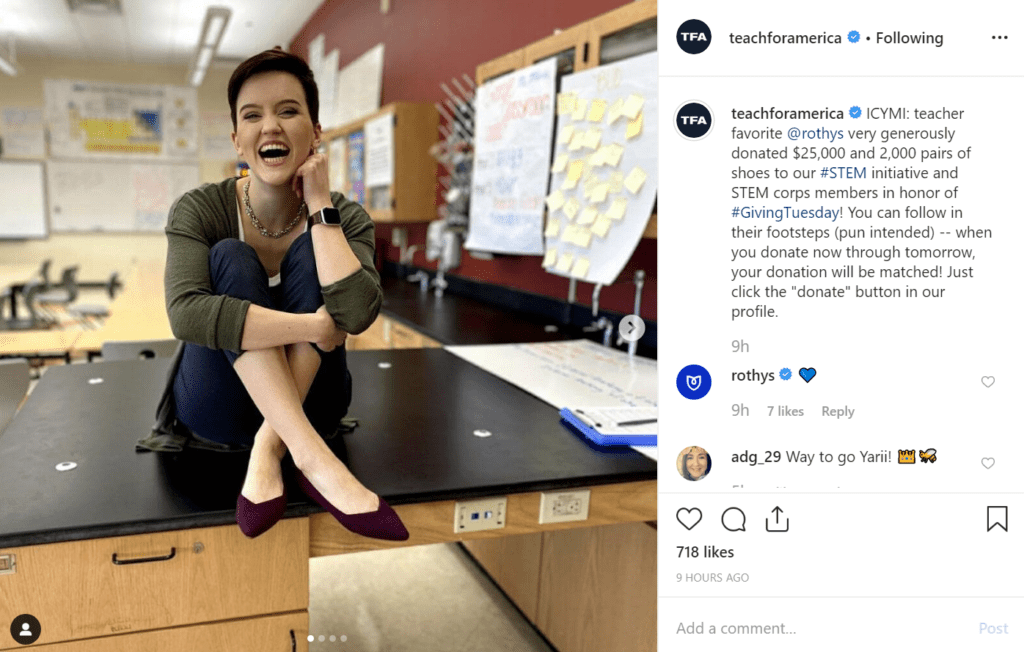 After reading the copy on these 3 Instagram posts, my assumption is because they're large nonprofits, their thinking was: "Everyone knows about us, knows our mission, knows the life-saving work we're doing." So no need to tell a story. Just ask and they will give.
Huge fail. Never make that assumption. If you're not telling me how my hard-earned dollars will be used, I'm gonna find somewhere else to donate. American Heart Association says "Make a difference." Please tell me HOW my donation will make a difference!
Gratitude. Barely.
Please read the copy in the two Instagram posts below: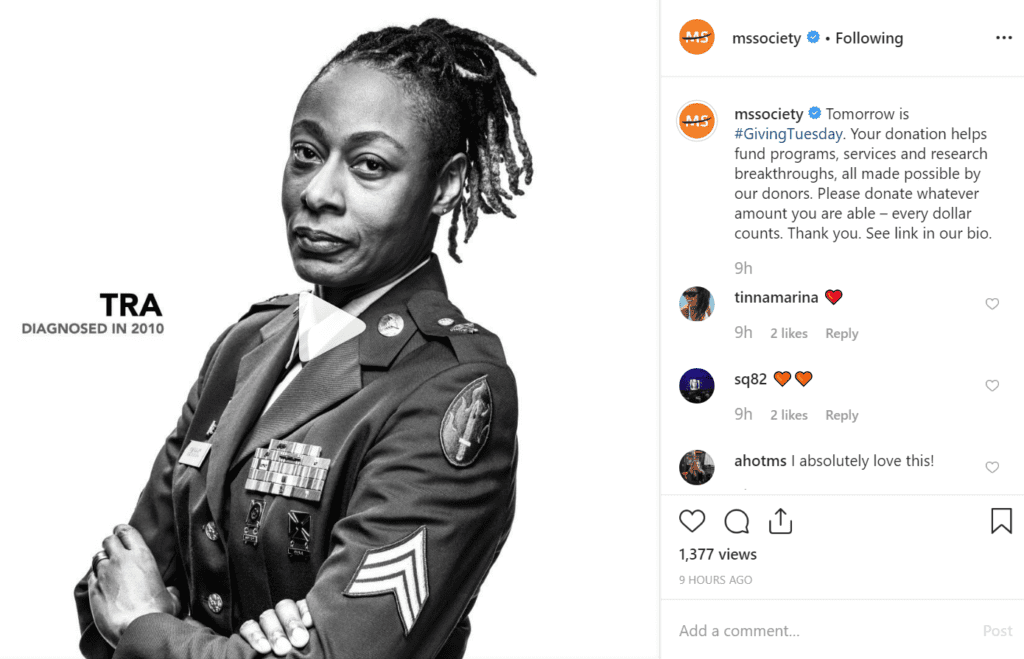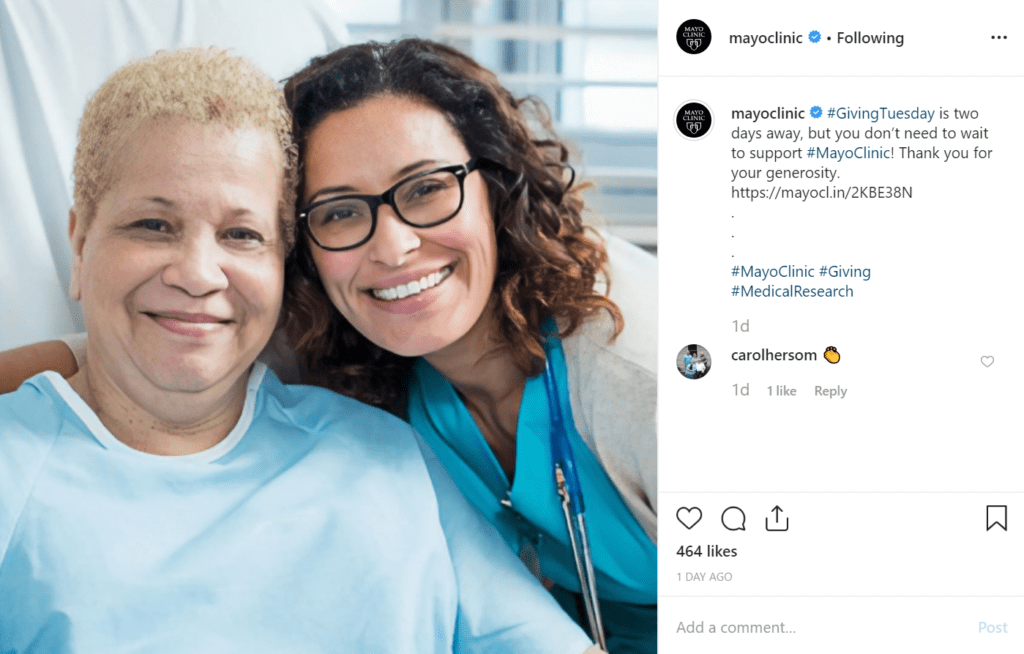 Notice anything different about these two? Out of the eight nonprofits, these were the only two that said "thank you." Appalling.
Donor Love: Where we show gratitude, shower donors with affection and display our appreciation of their efforts. All 8 above neglected to do that. Only 2 bothered to say a thank you. But none of them really acknowledged the critical part donors play in making sure these organizations can carry out their mission.
So What Should You Do?
People connect to stories, not to a pitch. Donors need a reason to donate. They need to know who is being helped and how their donation will be used. They want to know how lives are being changed.
The attitude of the above nonprofits, based on these Instagram posts, is simply: Give us. Why? Because it's Giving Tuesday. Duh! And that's exactly when donors feel like cash cows and they stop donating.
It is possible that these organizations sent Giving Tuesday emails that were chock full of information. The problem? I'm engaging with them only on Instagram! Each outlet needs a different strategy but storytelling, marketing and donor love fundamentals are the same across all platforms.
When I work with small nonprofits, their biggest complaint is lack of budget to hire a large marketing, fundraising and communications team. My reply? Size doesn't matter! If you have a strategy which maps out your marketing and storytelling efforts, if you're genuine with your appeals and you show a real appreciation for your donors, you'll see fundraising success!
The RIGHT Way To Do Giving Tuesday
Dave Tinker, VP of Advancement at Achieva, tweeted this about their Giving Tuesday plans:
I'm planning to simply thank my donors tomorrow using video and not ask them for a gift. Last year we started using Giving Tuesday as a day of #donorlove and #stewardship instead of treating our donors like atms. cc @CauseVid

— Dave Tinker, CFRE, FAFP (@davethecfre) December 3, 2019
Achieva sent donors a personalized email that read: "While today is Giving Tuesday, we didn't want to ask for a gift.  Rather, we wanted to thank you for your support this year. More people with disabilities and their families are being served because of donors like you. Thank you!"
FANTASTIC! That's the kind of donor love I'm talkin about! Dave sent me a sample video of what Achieva sent its donors and supporters. It doesn't have to be a Spielberg production to be effective. A heartfelt thank you from the people donors have helped is more than enough. Think how good donors would feel after receiving that video. Very warm and fuzzy.
The best part? Achieva DID receive Giving Tuesday donations. Imagine that. They thanked people without asking and still raised funds. It can be done, when it's done right.
Is your organization looking to solve your current communications and marketing challenges? Then let's talk! Be in touch to set up a free 30 minute call so we can start discussing how to improve your bottom line results.
Hey nonprofit pro! I publish an e-newsletter Monday-Thursday which delivers content to your Inbox that's relevant for any nonprofit role you fill. Expand horizons with one click. Subscribe today!