Friend: Hi! How ya doin?
30 minutes go by…
Me: Great! How are you?
1 hour passes…
Friend: Doin ok. Busy busy busy. Wanna get together for drinks?
17 hours later…
Me: Not today. Or is it tomorrow?
Putting The Social In Social Media
I've been on Twitter for almost a decade. I've learned a thing or two. Most critical to Twitter success? Being present.
Social media means being 'social.' Responding, engaging, replying. Having a conversation.
Tweeting something which people respond to but crickets back from you? That's not very social. It's kinda like the conversation above. You wouldn't do that with your friend, so why do it to a Twitter follower?
The goal is to engage. To "talk" to people via Twitter. Back and forth.
Think about it: If you're a nonprofit and replying in real time, now your followers know there's someone manning (or womaning) the account. If they have a question, they know someone will be there to answer it. Almost right away.
It's like customer service with an airline (when we could fly). If your flight was delayed, you took to Twitter to complain and someone from the airline got back to you quickly.
If you say something to me, I don't wait 30 minutes to respond. So if you're gonna tweet something, be there to answer!
Why I Never Schedule Tweets
Hootsuite, Buffer, Tweetdeck, Sprout Social. There are an endless number of platforms and apps which allow you to schedule your tweets in advance.
The problem? If your scheduled tweet gets posted but you're not online at the time, people will be engaging with the tweet but you won't. Again, that's not how a conversation works.
It's why I never schedule tweets. Ever. If I'm sending a tweet, I want to be present to answer any replies it might get.
With one exception: My pre-Sabbath tweet. I take a 25-hour break every single week (you should try it!) and am completely offline. Before I go offline, I tweet something related to asking people to check in with family and friends. I know I won't be around for any replies but it's also a tweet which needs no reply.
Folks:

You have family & friends who are in quarantine 365/24/7. They're struggling, feel alone & locked up with their troubles.

Text. Call. Zoom. Talk to them. Laugh with them. Cry with them. Be there for them.

Do it today.

Shabbat shalom. Have a relaxing weekend.

— Ephraim Gopin (@EphraimGopin) May 15, 2020
Just do it.
Would I tell you to schedule those kinds of tweets? Possibly. But I wouldn't suggest you tweet something which is not meant to generate a response more than every now and then.
My followers know I take a break. Do they tag me in their tweets while I'm offline? Yup. But they know I respond very quickly once I'm back online.
On a regular day, if someone mentions me, I'm responding as quick a I can. Again, that conversation thing. Because when you don't…
Here's an example from Amtrak: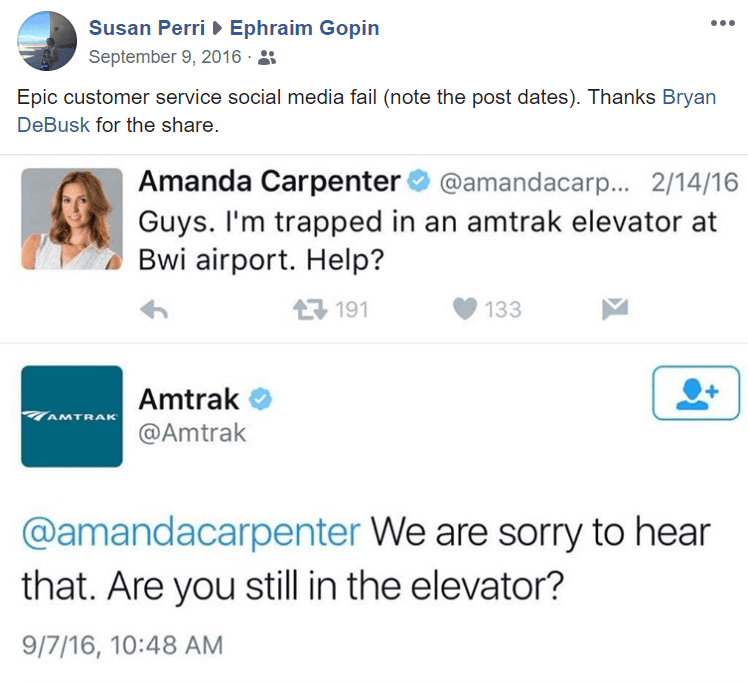 Notice that it took them SEVEN MONTHS to respond!!! I hope she made it out of the elevator safely. I know this is an extreme example but I use it to make a point:
Your followers on Twitter could turn into email newsletter subscribers, volunteers, advocacy partners or donors to your nonprofit. They expect a response. Don't let them down!
Wearing All The Hats
I'm well aware that in most nonprofits, the employee dedicated to managing social media is also in charge of seven other things That person also has to be the eyes and ears for what's going on out there and keep the organization's Twitter feed current. Nonprofiteer life.
If that's the case, don't schedule tweets. Tweet when you're present. It allows people to know there's a face behind the logo.
"But I can't sit on Twitter all day" you say. Agreed. Then post and make sure that your phone/computer pings every time there's a reply to your tweets. This way you can quickly go on Twitter and reply if necessary.
A decade on Twitter has taught me that people appreciate a quick response. That same decade has taught me that not responding or being extremely slow to respond is the opposite of being social.
People on Twitter appreciate the immediacy of the platform. So should you!
Need someone to do an audit of your email marketing, website content, social media or fundraising/marketing collateral? I'm happy to work with you!